Description
Hardware
Solid curtains per this form or strip style is available
16 gauge thick industrial grade steel
Anchor plates with 4 lag points
Nylon roller hooks for easy curtain opening
Max height of 15
Uprights spaced every 8'
Approval drawing with the layout is provided with each order
Bolt Together Design
Components bolt together for quick assembly
Layouts can be changed for future needs
Opaque Curtains - 13oz, 18oz, 22oz
Vinyl coated polyester reinforced with scrim
NFPA fire retardant, CFM fire retardant
18oz and 22oz are outdoor rated
Finished edges for clean crisp appearance
Double or triple hems used where needed for longevity
Ideal for temperatures going as low as -10° F to 160° F
All colors are the same price
13 oz = .016″ thick, 1.44 oz. per square foot
18 oz = .020″ thick, 2.0 oz. per square foot
22 oz = .024″ thick, 2.44 oz. per square foot
Clear Curtains - 20mil and 40mil
Clear double polished PVC
NFPA fire retardant, CFM fire retardant
Outdoor rated
Finished edges for clean crisp apperance
Double or triple hems used where needed for longevity
Ideal for temperatures going as low as 10° F to 140° F
20 mil = 20mil thick, 1.98 oz. per square foot
40 mil = 40mil thick, 3.95 oz. per square foot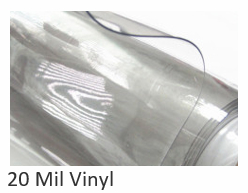 Tinted Curtains - 14mil and 40mil
Ideal for welding applications
Blocks most UV radiation for welding
NFPA fire retardant, CFM fire retardant
40mil is outdoor rated
Finished edges for clean crisp appearance
Double or triple hems used where needed for longevity
Ideal for temperatures going as low as 10° F to to 140° F
14 mil = 14mil thick, 1.44 oz. per square foot
40 mil = 40mil thick, 3.95 oz. per square foot
Curtain Features
 
Clear Vision Panels
Vision panels can be added to allow for a clear line
of site through the curtain. Standard vision panels
are 54" in height but can be made to any size.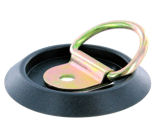 Anchor Straps
Velcro straps hold your curtain in place if wind
is present or a more secure curtain is required.
These anchors feature Velcro straps which loop
through a D-ring which is anchored into the
cement floor. Typically spaced every 4'.
Seal Velcro
Seal Velcro also known as adhesive Velcro sticks
onto your curtain and can be installed in the field.
Please note that this is not ideal for cold
temperature applications or high-frequency use.
(Get a custom quote for this feature)
Chain Weights
If you have a slight breeze or are power washing
near the curtain then you can add a galvanized
3/16" chain weight to the bottom of the curtain.
Connecting Curtains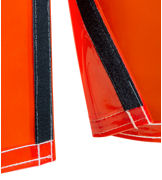 Velcro
Velco is used to connect curtain sections
together to form larger curtain walls. The
velcro also serves as an access points for
larger curtains and makes them easier to
install.
Magnets
Seal magnets are an idea way to attach curtains
to each other or adjacent steel walls and beams.
Best utilized in dusty areas that would clog up
Velcro.
(Get a custom quote for this feature)
Entry Options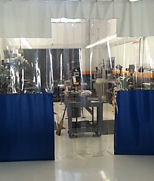 Sewn In Strip Doors
Strip doors that are sewn into the curtain are
ideal for light foot traffic. This allows for quick
movement of people into and out of the
industrial curtains.
(Get a custom quote for this feature)
Colors -

18oz Vinyl 
Colors -

14mil Tinted Vinyl
Key Benefits
Less expensive than rigid walls
Can be taken down quickly when not needed
Can be re-purposed in other areas
Ability to make new layouts in the future
Divide work areas quickly
Industrial free standing curtains improve worker safety
Easy to clean with slick surface of Vinyl
Contain welding, over-spray, sparks and other debris
Lifetime warranty on all hardware and 5 year warranty on curtains
Many Layout Options
AKON can supply just about any layout you can think of. Below are some common styles. They can be single sided, double-sided, triple sided, four-sided or multiple straights to create complete enclosures. You simply inform AKON about your desired design and we will have it fabricated exactly as you need it. For customized layouts, sketch your design and upload it using our online RFQ form. See button below.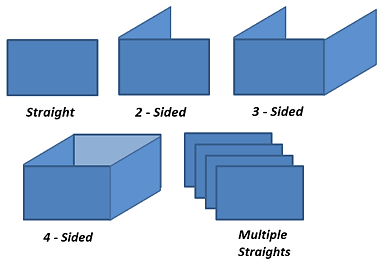 Common Questions
---
What is the spacing from the bottom of the track to the top of the curtain?
If for instance you input 10' for the curtain height then you will have hardware that is 10' from the floor to the top of the track. The curtain will be 3" shorter at 9' 9" to keep it just off of the floor.
What are the dimensions of the track?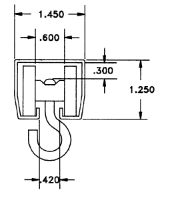 Can the track be cut to size as required on site?
Yes, the track is made to be field cut on site using a hack saw or sawzall.
How much width does the radius corner add to the length?
A radius corner has a 2' radius. So if you input 10' for curtain width then you will end up with 12' when you attach the radius corner. If that is too long then simply cut the track onsite and the radius will still work.
How does the free-standing track go together?
The industrial freestanding curtain track is modular in design and will arrive in pieces that have a simple bolt together design.
How close together will the vertical track supports be?
The vertical track supports will be spaced every 8 feet. If you have a smaller freestanding industrial curtain they will of course be closer together.
Can I move the freestanding curtain around?
They can be moved around depending on the size and configuration but it is not something you're going to want to do on a regular basis. For instance if you need to move the freestanding industrial curtain every day or every hour then it is probably better to use our portable welding screens.  They are primarily used for welding but can be used for many other applications as well. They are an ideal freestanding enclosure for applications where mobility is required.
How hard is it to install the industrial freestanding curtain ?
It is very easy. All of the components simply fit into each other and connect with set screws. The installation is very intuitive. If you have any difficulty simply call or email us and we will walk you through the process.
Will the track rust? Can it be used in wet environments?
The track is Hot-dip galvanizing (HDG) which is often used to protect steel from corrosion in some of the harshest environments imaginable, yet it provides maintenance-free longevity for decades. The corrosion resistance of hot-dip galvanizing varies according to its surroundings but generally corrodes at a rate of 1/30 of bare steel in the same environment.
Lead Time
Ships in 7-10 work days
Ships UPS or FedEx. You can also specify your shipping account
Warranty
Curtains - 5 year warranty on manufacturing defects
Hardware - Lifetime warranty on manufacturing defects