Description
Features
Vinyl coated polyester reinforced with scrim
NFPA fire retardant, CFM fire retardant
Outdoor rated
Finished edges for clean crisp appearance
Double or triple hems used where needed for longevity
Ideal for temperatures going as low as -10° F to 160° F
Thin, light weight and flexible unlike sound panels
13 oz = .016″ thick, 1.44 oz. per square foot
18 oz = .020″ thick, 2.0 oz. per square foot
22 oz = .024″ thick, 2.44 oz. per square foot
Material:

STC-13
Thickness: .0185″
Weight (oz/yd): 20
DBA Reduction: Estimated up to 13 DBA
Price:

$
Material:

STC-17
Thickness: .0340″
Weight (oz/yd): 38
DBA Reduction: Estimated up to 17 DBA
Price:

$$
Decibel Reference Chart
 Attention CA Residents: Prop 65 Warning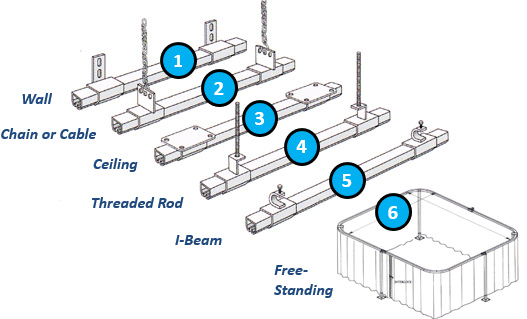 Rolling Hardware
16 gauge galvanized steel tracks
Nylon roller hooks for easy opening
6 mounting styles to connect to various structures
Free standing hardware for up to 20' in height

Static Mount Hardware
Aluminum Angle - Use with self tapping Tek screws to pinch curtain to angle.
Grommets Only - You can then use many DIY methods to hang the curtains.
Beam Clamps - Clamps onto the flange of beams, joists and purlins.
Curtain Features
 
Clear Vision Panels
Vision panels can be added to allow for a clear line
of site through the curtain. Standard vision panels
are 54" in height but can be made to any size.
Curtain Valances
A valance is made from the same material as the
lower curtain. They are used to seal the opening
above the curtain. This is generally the space from
the roof deck to the bottom of the joist or purlin.
They can be rectangular or follow the slope of the roof.
(Get a custom quote for this feature)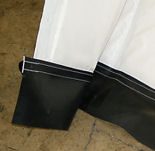 Floor Sweeps
A floor sweep seals the open area between the
curtain and the floor. It attaches to the main
curtain by Velcro. They are 6″ tall and as wide
as the entire length of the curtain. These are
ideal for controlling dust, fumes, odors and
other undesirable elements. They can also be
replaced in the future should the friction from
the floor wear them out.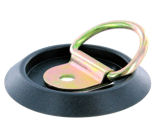 Anchor Straps
Velcro straps hold your curtain in place if wind
is present or a more secure curtain is required.
These anchors feature Velcro straps which loop
through a D-ring which is anchored into the
cement floor. Typically spaced every 4'.
Seal Velcro
Seal Velcro also known as adhesive Velcro sticks
onto your curtain and can be installed in the field.
Please note that this is not ideal for cold
temperature applications or high-frequency use.
(Get a custom quote for this feature)
Chain Weights
If you have a slight breeze or are power washing
near the curtain then we can add a galvanized
3/16" chain weight to the bottom of the curtain.
Connecting Curtains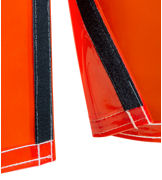 Velcro
Velco is used to connect curtain sections
together to form larger curtain walls. The
velcro also serves as an access points for
larger curtains and makes them easier to
install.
Magnets
Seal magnets are an idea way to attach curtains
to each other or adjacent steel walls and beams.
Best utilized in dusty areas that would clog up
Velcro.
(Get a custom quote for this feature)
Entry Options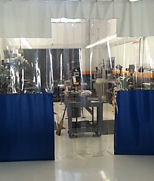 Sewn In Strip Doors
Strip doors that are sewn into the curtain are
ideal for light foot traffic. This allows for quick
movement of people into and out of the
industrial curtains.
(Get a custom quote for this feature)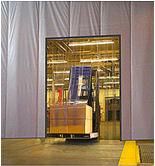 Free Standing Strip Doors
For motorized traffic a free-standing steel frame
strip door is ideal. The steel frame takes the
stress off of the curtain wall ensuring longevity
and performance for motor traffic and high use.
(Get a custom quote for this feature)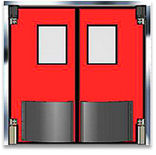 Swinging Impact Doors
A free-standing industrial swinging door can
also be provided for access. Also known as
impact doors, these heavy duty doors can
take a lot of abuse from carts, fork lifts or
heavy foot traffic.
(Get a custom quote for this feature)
Roll Up Doors
Supported with a free-standing steel frame
the power roll up doors can be opened and
closed via remote from a fork lift. Door
styles and prices vary based on frequency
of opening and closing, speed requirements
and size.
(Get a custom quote for this feature)
Here Are Some Common Questions:
What is mass loaded vinyl (MLV) material?
Mass loaded vinyl is a heavy and dense vinyl material that contains a high density of heavy particles, such as barium sulfate or calcium silicate. It is used to create sound barriers that reduce noise transmission.
How do mass loaded vinyl curtains work?
Mass loaded vinyl curtains work by adding mass to a surface, which helps to reduce the transmission of sound waves. The curtains absorb and reflect sound, creating a barrier that blocks sound from entering or leaving a room.
What types of spaces are best suited for mass loaded vinyl curtains?
Mass loaded vinyl curtains are ideal for spaces where sound quality is important, such as recording studios, music rooms, and home theaters. They are also useful in industrial settings to reduce noise pollution and protect workers' hearing.
Are mass loaded vinyl curtains easy to install?
Yes they are. No experience is required to install these curtains, and you can do so with curtain tracks, hooks, or grommets.
How thick should mass loaded vinyl curtains be?
The thickness of mass loaded vinyl curtains can vary depending on the level of soundproofing required. The options we offer differ between 13 DBA and 17 DBA, and it is up to you which sound insulation level is preferred.
Width
Measure the distance that you are trying to cover.

Add 5% to that dimension and input it into the

width field

of this form.
The extra 5% gives you proper drape for your curtain.
Height
Measure the distance from the floor to the mounting point.

Take that dimension and subtract 3 inches and input it into the height field of this form.

We subtract those 3" to account for the hardware to keep your curtain off of the floor.
If you are not using hardware then no need to subtract the 3"
If you want the floor sweep option, also subtract the 3". This will allow the floor sweep to lay slightly on the floor while the main curtain is just off of the floor.
Need More Help? Watch This
---
Common Questions
---
What is the spacing from the bottom of the track to the top of the curtain?
Standard curtains have approximately 3.75 to 1″ of a gap from the bottom of the track to the top of the curtain.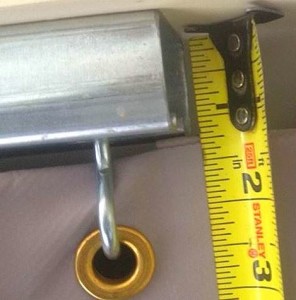 What are the dimensions of the track?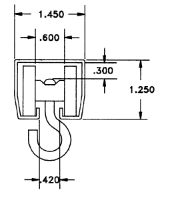 Can the track be cut to size as required on site?
Yes, the track is made to be field cut on site using a hack saw or sawzall.
How much width does the radius corner add to the length?
A radius corner has a 2' radius. So if you input 10' for curtain length you will end up with 12' when you attach the radius corner. If that is too long then simply cut the track onsite and the radius will still work.
How does the track go together?
The track is modular in design and will arrive in pieces that have a simple bolt together design.
How close together do I need the track supports?
The track should be supported approximately every 5' with a track support. The farther apart the track supports, the greater the deflection. If you have a relatively light weight curtain then you could space the supports out to about 8' apart. You will receive enough track supports with your order to achieve this 5' spacing.
Can I simply drill straight through the track and into the ceiling / structure?
Yes. This is called a flush mount install and is very common. Simply drill through the middle of the track and use a small wood screw, bolt, Tek screw...ect into your structure. Space the holes about every 3-5'.
How hard is it to install the industrial curtain track?
It is very easy. All of the components simply fit into each other and connect with set screws. The installation is very intuitive. If you have any difficulty simply call or email us and we will walk you through the process.
Will the track rust? Can it be used in wet environments?
The track is Hot-dip galvanizing (HDG) which is often used to protect steel from corrosion in some of the harshest environments imaginable, yet it provides maintenance-free longevity for decades. The corrosion resistance of hot-dip galvanizing varies according to its surroundings but generally corrodes at a rate of 1/30 of bare steel in the same environment.
Key Benefits
Blocking out noise and improving sound quality in a room
Providing thermal insulation
Improving the appearance of a room
Protecting workers' hearing in industrial settings
Less expensive than rigid walls
Can be taken down quickly when not needed
Can be re-purposed in other areas
Ability to purchase more curtains and attach to existing curtains
Divide work areas quickly
Industrial sound curtains improve worker safety
Quick to roll out of way when not in use
Easy to clean with slick surface of Vinyl
Contain air migration, odors, dust, over-spray
Lifetime warranty on all hardware and 5 year warranty on curtains
Many Layout Options
AKON can supply just about any retractable sound curtain layout you can think of. Below are some common styles. They can be single sided, double-sided, triple sided, four-sided or multiple straights to create complete enclosures. You simply inform AKON about your desired design and we will have it fabricated exactly as you need it. For customized layouts, sketch your design and upload it using our online RFQ form. See button below.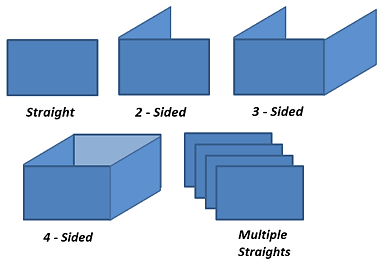 Lead Time
Ships in 7-10 work days
Ships UPS or FedEx. You can also specify your shipping account
Warranty
Curtains - 5 year warranty on manufacturing defects
Hardware - Lifetime warranty on manufacturing defects