Description
Material
1/4″ weave 19-gauge hot-dipped galvanized steel or aluminized steel coiled wire fabric
Allows visibility through the mesh while protecting people on the other side from projectiles (*)
Compliant with the Occupational Safety and Health Administration's (OSHA) requirements to prevent injuries from projectiles, specifically ANSI B11.19-2003.
Curtain Track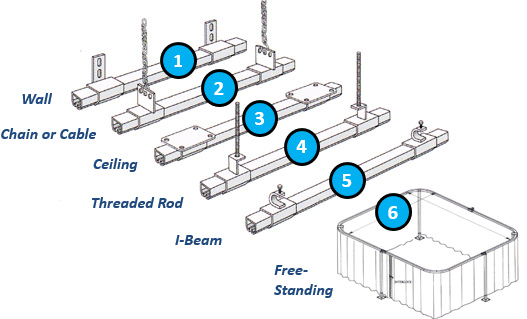 16 gauge galvanized steel tracks
Nylon roller hooks for easy opening
6 mounting styles to connect to various structures
Free standing hardware for up to 10' in height
Static Mount Hardware
Aluminum Angle - Use with self tapping Tek screws to pinch mesh curtain to angle.
Beam Clamps - Clamps onto the flange of beams, joists and purlins.
(*) Unlike other national and regional standards systems, the United States does not have an approved entity that can certify fully integrated and installed guard systems for safety compliance. The responsibility of ensuring compliance falls to the employer, installer and/or OEM. We are confident in our product, but as all applications are different it is imperative that you test our products for your particular installation. It is recommended that this application-specific analysis include testing to determine suitability from a technical as well as health, safety, and environmental standpoint. All information and technical assistance is given without warranty or guarantee, and is subject to change without notice.