Overview
Black strip curtain doors allow rapid access into and out of doorways without the need to open and close a swinging door. Black strip curtain walls divide manufacturing processes and can stretch for a very long distance depending on your application. Black opaque strip curtains can be made into almost any shape and design. These custom black strip curtains are used in special applications.
Standard or ESD
Most applications use a standard black flat strips but a anti-static black strip curtain is also available for areas where static charge is not ideal. The material is ESD rated and is extruded with anti-static properties built right into the PVC. This anti-static rating on the black strips makes it impossible to wear off.
Black Privacy Strip Curtain
Black strips come in many different widths and lengths depending on your application. The most common is the black flat 8" wide strips. These strips are pre-punched and ready to hang for a quick installation. The strips are made to any length to fit your application and are scored at the factory. They can be used indoors or outdoors and are a great solution for outdoor privacy.
Static Mount
Header Mount
Wall Mount
Universal Mount
Threaded Rod Mount (Just a Feature of Universal Mount)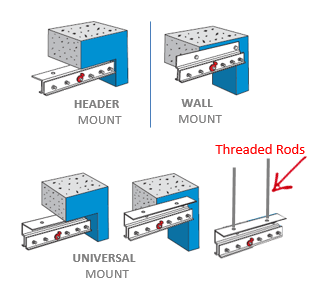 Free-Standing Mount
Supported from the floor up
Used in open floors when you can support from above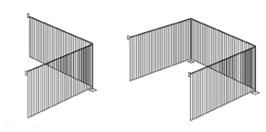 Rolling Hardware
Allow the strips to roll out of the way
Ideal for complete access when strips are not needed
Note the strips roll like a barn door and do not fold up
Stand Off Hardware
Commonly used for roll up drums near dock doors
Hardware is extendable outwards to accommodate door drum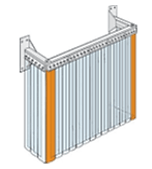 Tube Mount
Fits up to 2" diameter pipe
Each pipe clamp is 4" wide and holds 2 strips (overlapped)