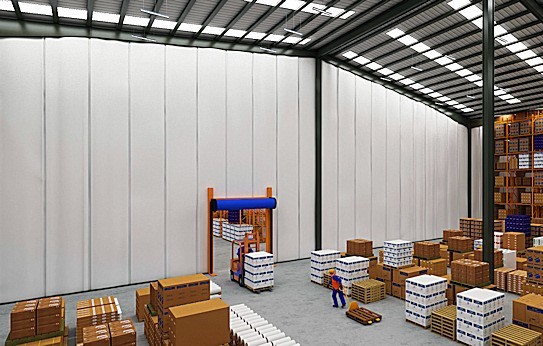 Overview
The winter is over, and the weather has finally started to improve. Temperatures are steadily going up. The outside looks lush and green. The upcoming summer might be great for people who like traveling and exercising, but it holds its own set of challenges for industrial facilities – and especially warehouses. If they don't stay cool, serious issues could arise. How to cool a warehouse efficiently? First, your employees will find themselves in an unbearable working environment. Second, your equipment, machines, and materials could suffer damage. And, third, the industrial operations won't run efficiently. We will share with you a list of tips on how to cool a warehouse and provide an amazing, all-in-one solution.
Large Warehouse Cooling Options
1. Organize Your Warehouse
Some warehouse supplies can suffer during the summer's heat.  If the inside temperatures get too hot, your equipment might break or the materials could go bad. The summer heat can be tough to deal with for the employees as well. It is of vital importance to prepare in advance. Your warehouse must match the local environment.
If possible, choose the correct labels. Some of them could endure the damage while others will shrink or crack. Thermal transfer labels could do the trick. Using polypropylene (a thick plastic) will be beneficial because it can withstand temperatures up to 175 degrees F (79 degrees C). Polyester is even better because it can endure temperatures up to 300 degrees F (148 degrees C). Polyimide can go up to 500 degrees F (260 degrees C).
Arrange the warehouse space in such a way to create healthy air circulation on the floor which will cool down the facility.
2. Let The Cooler Night Air Enter The Warehouse
You might have heard of night purging – by using HVAC cooling and ventilation, you can replace the hot inside air with cool air from the outside. The idea is simple – since hot air goes up and cold air goes down, they can easily switch their positions. There are different ventilation systems you can choose from. By having a good ventilation system, you can remove excessive heat, moisture, fumes, odors, smoke, and dust build-up. You will be able to keep your equipment and goods safe. The working environment will also improve thus increasing the wellbeing and productivity of your employees. A simple solution could be the use of portable industrial fans. They will keep the air moving and cool down areas which aren't in reach of the larger air conditioning units.
3. Use Screen Doors

If you want to increase the airflow in your warehouse, screen doors could be the answer. It would be beneficial to use them instead of leaving the doors open. A great example would be Paylon's Dock Bug Screen Doors. They can either keep the warm air in during winters or keep the cold air in during summers. They will also prevent birds, insects, and other animals from entering the facility. Pests and varmints can be a nuisance for the employees and might damage some of the goods. On extremely rare occasions, varmints can chew cables and cause serious issues. Screen doors will also prevent unauthorized access into the warehouse.
4. Proper Insulation

Proper insulation is important if you are looking for large warehouse cooling options. It will prevent cool air from escaping during the summer. Insulating your warehouse will help control the inside temperature. If you go all out and insulate the entire facility, there could be acoustic benefits and better fire protection. However, it is not easy to pull off. It is one thing keeping an office cool and another keeping a warehouse cool. Dealing with large spaces could be tricky. Luckily for you, we have a great solution on how to cool a warehouse at the bottom of our page. If you do it right, summers will be cooler and winters – warmer. Another important thing to remember is keeping the cold storage away from poorly insulated rooms of your facility. An example could be the main entrance. Also, keep an eye on how often people open specific doors. If you can minimize movement and keep the doors closed most of the time, it would help out with temperature control. Once the general insulation is ready, you could focus on improving the inside airflow.
5. A White Roof Will Help
If you are seeking long-term temperature protection for your warehouse, look up. The roof matters. Some roof materials can reach a temperature of around 200 degrees F (93 degrees C). The heat will slowly sink in the warehouse. It is like leaving a car out under the sun during the summer. The inside temperatures will almost become unbearable. A large warehouse can suffer from that as well. Having a cool roof will help with temperature control and reduce energy costs. If you want to reduce heat as much as possible, a reflective roof with light colors will be the best choice. While doing that might be expensive, it will save a lot of money in the long-run. Having a pure white roof will slow down heat building the most.  If you prefer something darker, there are reflective coating treatments as well.
6. Hold The Doors

Use proper sealing to keep the dock doors closed and avoid warm outside air from entering. While insulation is useful, cold air will always find a way to escape. One way is through the exit doors. If you leave them open for too long, the AC costs will start going up. Industrial strip doors or curtains can be of help. They will keep some of the cold air from escaping while preventing the outside hot air from entering.
You can manage these curtains and position them in the warehouse's hotter areas – where most of the heavy machinery is operating. You will still be able to easily walk through them without negatively affecting the warehouse's productivity.
7. Efficient Air Conditioning
The use of an air conditioning system is important. The energy costs might be high, but it is better than letting the heat built up and thus risking accidents. In a large warehouse, having an air conditioning unit might not be too effective since the air flow has its limitations. You will need to create an efficient inside design by placing the AC in a central position or near the rooms which need cooling the most.
Another option would be the use of ceiling fans. They will help in creating better air flow. However, if your warehouse ceiling is too high, the fans will have a smaller effect. In such scenarios, fans with high volume and low speed could be useful. They will cover up more space. Large industrial fans will work in areas which the AC cold air doesn't reach like the working areas.
One simple trick would be to reduce machine uptime to the minimum. If the machines are running for the whole day, the inside temperatures will go up. Using the machines only when you need them will reduce the electricity bills and keep the warehouse cooler.
You can consider renting or buying portable air conditioners. They tend to be more cost-effective and efficient than the typical air conditioning units. A great benefit is their flexibility – you will be able to position them in the areas which need cooler air the most.
8. How To Keep Warehouse Employees Cool?
The summer heat is dangerous for some machines and goods, but not only. The employees will notice it, and they won't be happy about it either. Rarely will you find someone who enjoys working in the heat. Creating a friendly working environment should be priority number one. So, how to keep warehouse employees cool? If you want to keep their morale high, warehouse temperature control is a must.
If your workers are happier, they will be productive as well. To keep the room temperature healthier and prevent heat exhaustion during the summer, proper air conditioning and ventilation are a must.  Too much physical activity can lead to serious exhaustion which will slow down productivity and might lead to fainting. Do not allow such scenarios to unfold as fainting inside a warehouse can be dangerous. Prepare in advance and create a comfortable and secure working environment.
Some symptoms of heat exhaustion are vomiting, red skin, high fever, dizziness, or nausea.  To ensure such sicknesses never occur, make sure everyone is hydrated. Schedule at least a few breaks throughout the day. Conduct education courses at the beginning of every summer to prepare your employees. Share tips on how to prevent heat exhaustion. Some examples are wearing clothes with light colors, taking rests, and staying hydrated.
9. Use Dehumidifiers
How to keep warehouse employees cool? One way is creating a drier working environment. High humidity levels can amplify the effect heat has on the employees. Moisture can cause other issues as well like interfering with some of the equipment. If you want to keep the warehouse dry, dehumidifiers are the answer. They will create a cooling effect on the facility. By combining them with the air conditioning system, dehumidifiers will keep your warehouse cool and cost-efficient.
10. Turn Off Unnecessary Heat Sources
For large warehouse cooling options, you will need a grand plan. As mentioned in point number 8, by turning off machines while not in use, you will save up on electricity costs. If turning something off for ten minutes might seem unreasonable, do not do it. Some machines take longer to fully charge up. However, be sure to turn everything off before you leave for the day. Some machines aren't essential during the night, so it would be beneficial to turn them down. By doing that, your ventilation systems will efficiently cool down the building.
AKON's One-For-All Solution On How To Cool A Warehouse
Overview
AKON's insulated warehouse curtains allow you to partition and divide your floor space for temperature and humidity control. Unlike fixed rigid walls which are permanent, you can take down the insulated panel curtains if you don't need them. The curtain walls will often cost you three times less money than fixed rigid panel walls. The installment is quicker as well. If you are wondering how to keep warehouse employees cool while the budget stays on track, this is the right solution for you. Keep your warehouse cool in the summer and warm in the winter. Cut down on the AC bills while maintaining an efficient working environment.
What Are The Temperature Benefits?
You can create temperature zones for the comfort of your employees
You can create temperature zones for food products or materials
The curtains are easy to install behind your loading dock
The temperatures will remain consistent in various zones to save energy
You will reduce heat or cold loss and save a lot of money in the long run
What Are The Humidity Benefits?
Ideal for food distribution plants to preserve the quality of food
Increases the comfort for employees and other visitors
The curtain walls have Vinyl skins which are resistant to condensation
Some versions have anti-microbial agents which prevent mold or mildew
Allows mechanical chilling equipment to operate using less energy
Manage Work Flow and Tenants
You can design and redesign temperature spaces
You can easily move the walls when changing the storage
Make spaces larger or smaller with modular 5′ wide panels
You can store the entire wall in pallet boxes when not in use
Unlike fixed walls, you do not need demolition when redesigning the layout
Temperature Zoning
Create temperature zones for storing products at different temperatures or to create a more comfortable work environment.
Humidity Control
Effectively control humidity levels within your facility for food products or for better manufacturing processes.
Separate Tenants
Zone or lease out your warehouse to tenants who need to be kept separated due to their different operations.
Control Noise
Insulated curtains are also dual purpose noise control curtains due to the thick batting they are made from.
Click Below For A Rapid Quote