OVERVIEW
Akon supplies warehouse curtain walls which are often times far less expensive than traditional methods of controlling humidity, odors, privacy and temperature control. Our line of curtain walls can provide your warehouse, manufacturing plant, or distribution center with a cost effective way to contain heat or to separate and partition work areas off that will maintain different temperatures or work processes.
Warehouse Separation Curtains
To ensure the comfort of your workers or to maintain the quality of your products in your warehouse, you can ask yourself this question.
Should you undertake a costly construction project for fixed permanent walls, or should you use a less expensive option that gives you the flexibility of moving the wall in the future?
Common uses for warehouse divider walls
Reducing heating and cooling bills which saves the facility money
Controlling dust which is released as a result of production
Controlling odors which can be an annoyance to employees
Separating temperatures for food processing plants
Easy Install
Industrial curtains come with grommets at the top making hanging the curtains quick and easy with or without the curtain track.
 Inexpensive
Industrial curtains are about 1/3rd of the cost of other separation methods such as rigid walls or panel systems and are easy to store.
Separate Workers
Industrial curtain walls are ideal for separating workers for welding, washing, packaging and many other operations.
Control Noise
Industrial curtains help reduce noise due to the thick PVC they are made from which makes for a more comfortable work environment.
Easy to Store When Not Needed
Your warehouse and our curtain walls
There comes a time when you need to think beyond traditional expensive solutions for your warehouse. It is time to think of fabric and Vinyl curtain walls. There are 5 simple reasons why these structures are better solutions.
Vinyl walls will save money and expensive installation downtime
Easy to install and allow for future adaptability for your changing application needs
Will not require demolition should they have to be completely removed
Designed with fire-retardant Vinyl which can include layers of batting depending on your desired range of temperatures.
The warehouse curtain walls can reduce heating and cooling bills by as much as 50%
Less Expensive Than Rigid Walls
Advantages over fixed walls
These warehouse dividers are very different from a fixed rigid wall or a panel style walls as they are not a permanent structure. They can be quickly installed, modified, taken down and then re-installed which gives them much greater flexibility than that of a fixed wall.
Another benefit is the fact that our temporary warehouse curtain walls can be stationary or movable with slide tracks. So if there is a need for material to be moved into or out of a work area, the associate can simply walk the curtain to the open position, much like a shower curtain. For more frequent movement needs, a door can actually be installed right into the wall. This minimizes the exchange of temperature, debris, or line of sight from one side to the other.
Movable Curtain -
Suspended Track
The curtain track is suspended from above which is attached to the structure of the fabric building. The separation curtain can then roll side to side with ease to be removed almost completely out of the way.
Movable Curtain -
Free Standing
The freestanding curtain track is suspended from below using vertical uprights. While this is a more expensive set up due to additional hardware it allows access above the curtain. Typically used when it is not ideal to support the curtain track from above.
Movable Curtain On Track -
With Top Valance
Using either suspended curtain track or freestanding curtain track with the addition of a top valance. The curtain valance is used for additional separation in your fabric structure building. Usually ideal for temperature zoning or dust control. The bottom curtain opens and closes to allow access while the top is static.
Static Position Curtain -
Full Coverage
With this configuration you have one large curtain that only attaches at the top. The curtain is static in position so that it does not open or close. This configuration most often times features and access point like a strip door, roll up door or a swinging door to allow access to both sides for people and forklifts.
Curtain Track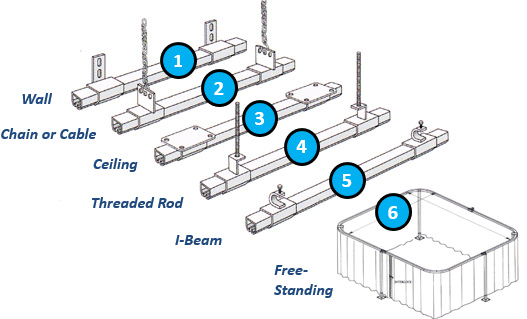 16 gauge galvanized steel tracks
Nylon roller hooks for easy opening
6 mounting styles to connect to various structures
Free standing hardware for up to 20' in height
Static Mount Hardware

Aluminum Angle - Use with self tapping Tek screws to pinch curtain to angle.
Grommets Only - You can then use many DIY methods to hang the curtains.
Beam Clamps - Clamps onto the flange of beams, joists and purlins.