OVERVIEW
Warehouse demising walls are unique and ideal for establishing warehouse separation walls in minimal time. They are a cost-effective alternative to fixed construction walls and require a shorter time period for installation than traditional framing walls. Its effectiveness is realized when used as soft walls to accommodate more production lines in your factory or to separate tenants in your warehouse. This demising wall system resolves the issue of breaking down and rebuilding walls in the warehouse due to ever changing needs in your business.
Temperature Zoning
Create temperature zones for storing products at different temperatures or to create a more comfortable work environment.
Dust Control
Effectively control dust levels within your facility during construction projects and during renovations.
Separate Tenants
Zone or lease out your warehouse to tenants who need to be kept separated due to their different operations.
Control Noise
Insulated curtains are also dual purpose noise control curtains due to the thick batting they are made from.
What is a Demising Wall?
A demising wall is a large wall used for dividing space within a warehouse in an industrial setting in order to separate processes or to isolate a particular production operation. Demising walls vary depending on their mode of application and your goals. A demising wall can;
Reach a height of 50 feet from the floor to ceiling totally covering an area to establish temperature and humidity controlled partitions.
Reach lengths of over 500 feet to fully divide a manufacturing plant into separate areas.
However you need your facility to be separated, we provide extremely tall wall systems that are just right for providing a temporal or permanent soft wall for the enhancement of environmental control, work efficiency, stable temperature maintenance, or to increase quality control. The modular demising wall system adapts easily to existing roof structures like beams and joists for a complete seal.
Break Up Work Spaces
Break up work spaces into sections at an affordable price. At AKON, we offer industrial and warehouse partitioning systems that allow you to separate parts of your working area quickly. Choosing to install prefab industrial demising walls is both quick and cost effective, especially when compared to traditional construction methods. These prefabricated walls can be easily rearranged or moved, giving you plenty of options, even after they are installed. Creating more space or divisions in your warehouse has never been this easy.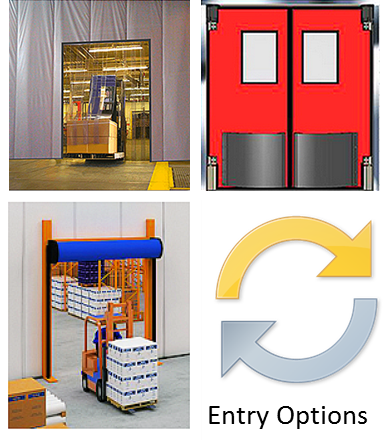 Entry Options
If you are using larger static position curtain walls that will not roll side to side then using entry points is ideal. These openings allow people and product into the curtained area quickly and with little effort. The most common entry and exits are strip curtains, swinging doors or powered roll up doors. Strip doors being the most common and economical. Each version features a freestanding frame that anchors into the floor and seals to the curtain wall.
Designed For Speed and Flexibility
Advantages
Reusable - Installing prefabricated industrial demising wall partitions can provide private and segmented workspaces.

Movable

- You can easily move and reuse the modular wall partitions.
Installation - They can also connect to almost any overhead steel structure, making it easy to relocate wherever possible.

Modular

- Reconfigurable Prefabricated Industrial Walls can be moved and rearranged any way you require.
Material Options
Standard Vinyl
Insulated
Wash Down Vinyl
Food Grade Vinyl
Backdrop Velour
ESD Rated Anti-Static
Coated Polyester
FM Rated
Demising Wall Uses
Warehouse partitions
Security partitions
Manufacturing cells
Temporary walls
Construction walls
Dust containment walls
Noise abatement walls
Curtain Track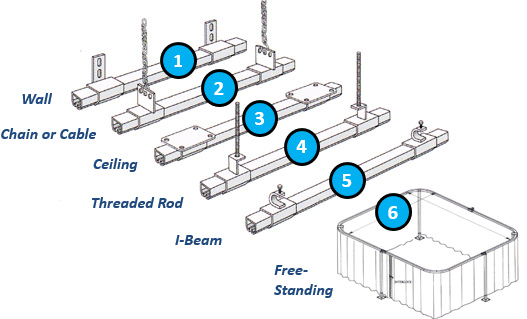 16 gauge galvanized steel tracks
Nylon roller hooks for easy opening
6 mounting styles to connect to various structures
Free standing hardware for up to 20' in height
Static Mount Hardware

Aluminum Angle - Use with self tapping Tek screws to pinch curtain to angle.
Grommets Only - You can then use many DIY methods to hang the curtains.
Beam Clamps - Clamps onto the flange of beams, joists and purlins.