OVERVIEW
Are you looking to reduce your heating bills or to separate your warehouse's floor space? If so, then you might want to consider the Akon warehouse divider wall as an inexpensive solution. These vinyl curtain walls cost only a fraction of traditional fixed walls and are becoming increasingly popular among many companies. They are available as insulated curtain walls for temperature separation applications.
Designed For Speed and Flexibility
Warehouse divider curtain wall
Quick installation compared to steel fixed walls
Very inexpensive when compared to fixed walls
Rapid deployment at a fraction of the cost
Can be quickly taken down if the need should arise
No building permit is required in most installations
Common uses for warehouse divider walls
Reducing heating and cooling bills which saves the facility money
Controlling dust which is released as a result of production
Controlling odors which can be an annoyance to employees
Separating temperatures for food processing plants
Easy Install
Warehouse walls come with grommets at the top making hanging the curtains quick and easy with or without the curtain track.
 Inexpensive
Warehouse divider walls are about 1/3rd of the cost of other separation methods such as rigid walls or panel systems and are easy to store.
Separate Workers
Warehouse curtain walls are ideal for separating workers for welding, washing, packaging and many other operations.
Control Noise
Warehouse curtains help reduce noise due to the thick PVC they are made from which makes for a more comfortable work environment.
Rigid Walls Are The Old Style
Warehouse Walls Need To Be Flexible
Warehouse walls have traditionally been constructed from structural steel or a similar type of construction. These walls are slow to be erected and require a lot of downtime, installation equipment, installation personnel, and expensive building permits. These warehouse walls are also inflexible, should your applications ever change, you would need to perform major modifications, which are expensive and time consuming.
With our warehouse divider curtain walls, future changes are very easy to perform and a lot less expensive. In fact, the design of the divider curtains can be modular in design. We can have the curtains constructed from panels which Velcro together for attaching and detaching. This allows more panels to be added in the future, or removed should the need arise.
The warehouse divider walls are becoming increasingly important as companies are looking for ways to cut back on utility bills. They are using the curtains to close off portions of the warehouse which are not needed for production, or where employees will not be working. Then, they can turn down the heat in those sealed off areas which in turn saves a lot of money on the heating bills, or cooling bills in the summer.
Curtain Track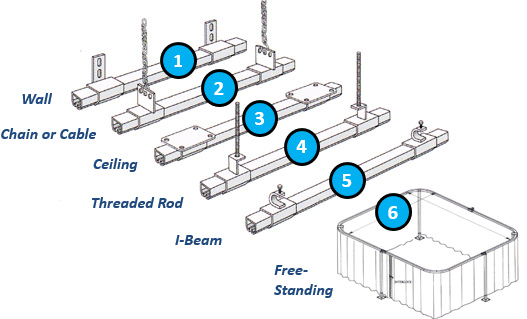 16 gauge galvanized steel tracks
Nylon roller hooks for easy opening
6 mounting styles to connect to various structures
Free standing hardware for up to 20' in height
Static Mount Hardware

Aluminum Angle - Use with self tapping Tek screws to pinch curtain to angle.
Grommets Only - You can then use many DIY methods to hang the curtains.
Beam Clamps - Clamps onto the flange of beams, joists and purlins.
Click Below for More Details