OVERVIEW
Leaving space for a warehouse lunchroom is highly-recommended (if not mandatory in some states). It will greatly improve worker efficiency and create a better environment for working. In the long run, it will definitely save money, but there are ways to speed up things and notice immediate benefits.
Here is where AKON's industrial warehouse curtains come in. They can be designed to have different sizes, shapes, colors, accessories, and more. We can supply standard vinyl warehouse curtain dividers to divide up space or provide insulated curtain walls which are ideal for keeping temperatures pleasant.
Our friendly team will provide expert advice and solutions which will result in a successful smooth installation. If you have been planing on making a warehouse lunchroom, but nothing seems to be worth it, we will help you out. This is one of the best break room ideas on a budget.
Break Room Ideas On A Budget
Making A Warehouse Lunchroom
There are not that many options here. Here are some common choices:
Go without a lunchroom. The bigger a facility is, there more benefits will come from setting up a special lunchroom. Without one, employees will have to travel outside, eat near the equipment, or stay on foot during their meals.
Build one outside. It could work, but is not efficient to put all that effort. Unless if there is space shortage, setting up a lunchroom inside will be more beneficial.
Use rigid, permanent walls. Sounds like a plan, but why choose such walls when industrial divider curtains can do the same job at a lower price? They can also be movable, transparent, and take almost no time to get installed.
Make a lunchroom with curtains. The best option by far. They offer all the benefits of a rigid wall+so much more. You will quickly set up a lunchroom inside and never have to worry about it anymore. Should you need, the curtains can always be repurposed or moved elsewhere. And most importantly, the workers will have a place to enjoy their meals.
Did your employee count change? Is there suddenly too much empty space or not enough space? No worries. You can move and reposition the lunchroom curtains to either increase or reduce the space inside.
Did the curtains get dirty? No problems here. They can be washed off in mere moments.
Risks of fire? Nothing to worry here either. Our curtains are fireproof and flame retardant. NFPA-701 approved for flame resistance.
AKON's Warehouse Lunchroom
Temperature Control
The warehouse lunchroom will be able to sustain temperatures different than anywhere else in the facility. It can maintain colder temperatures during the summer, so workers can relax and freshen up, or warmer temperatures during the winter, so everyone can take a nice break.
Humidity Control
Effectively control humidity levels within your facility for food products. The lunch must remain fresh at all times. Also, steam will not be able to exit the lunchroom and negatively affect other areas of the warehouse. The curtain's vinyl is waterproof and will keep moisture from passing through.
A Separate Lunchroom

Why construct an entirely new lunchroom with solid walls, when a few curtains can do the trick? They are easy to set up, easy to move, fully customizable, repurposable in other areas, and so much more. Not to mention multiple times cheaper than rigid permanent walls.
Control Noise
Our warehouse lunchroom curtains are also dual purpose and offer noise control due to the thick batting they are made from. Having lunch should not be affected by the production noise coming from other areas of the warehouse. Vise versa, workers can chat freely in the lunchroom.
Visibility
You have the choices to either use transparent vinyl or to block the view from and to the lunchroom. If transparency is important, we can add small window openings or entire sections with transparent vinyl. You can choose the layouts and sizes of your new lunchroom curtain enclosures.
Curtain Track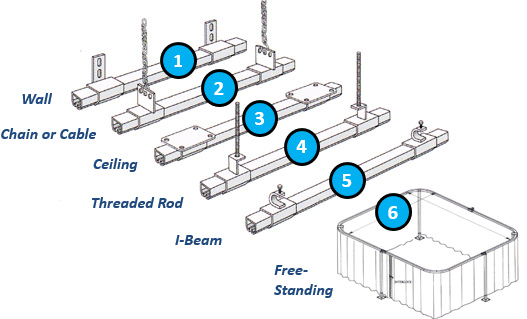 16 gauge galvanized steel tracks
Nylon roller hooks for easy opening
6 mounting styles to connect to various structures
Free standing hardware for up to 20' in height
Static Mount Hardware

Aluminum Angle - Use with self tapping Tek screws to pinch curtain to angle.
Grommets Only - You can then use many DIY methods to hang the curtains.
Beam Clamps - Clamps onto the flange of beams, joists and purlins.
Build Your Lunchroom Now!