OVERVIEW
A warehouse partition can be used for many applications. While there are a host of other uses for our warehouse partitions based on the flexibility of the design and its tough vinyl construction, these are the most common.
Reduce Heating Bills – Partitioning off used space from unused space
Humidity Control – Prevent humid air from floating around the facility
Dust Containment – Contain dust from floating around the facility
Odor Containment – Contain odors or fumes from surroundings
Partition Your Warehouse Space
Considerations for Warehouse Partitions
If you are like most customers, you probably are weighing your options as to which type of warehouse partition to use. In fact, you may have already considered using a fixed permanent wall as your partition. However, a fixed wall is not always ideal for the following reasons.
Fixed walls are expensive to purchase
They require a building permit
They cannot easily be removed once they are installed
Fixed walls require a long time to install
Fixed walls cannot easily be modified as the need arises
Complete Containment Solution
Section Off Your Warehouse
Benefits
You can see that a fixed permanent load bearing wall is not always an ideal solution to partition your warehouse. They are expensive, inflexible, and not easy to remove once they are no longer needed. Now consider the benefits of our Warehouse Curtain Partitions.
Low cost initial investment
Generally they do not require a building permit
Are easy to remove after installation
Installation is fast and easy
Can be modified at a later date quickly and inexpensively
Many warehouse managers have realized these benefits and are extremely happy with their choice. In fact, with today's shrinking budgets, our curtains are not only a good choice; they are often times the only logical choice.
Hanging Warehouse Partitions
Movable Curtain -
Suspended Track
The curtain track is suspended from above which is attached to the structure of the fabric building. The separation curtain can then roll side to side with ease to be removed almost completely out of the way.
Movable Curtain -
Free Standing
The freestanding curtain track is suspended from below using vertical uprights. While this is a more expensive set up due to additional hardware it allows access above the curtain. Typically used when it is not ideal to support the curtain track from above.
Movable Curtain On Track -
With Top Valance
Using either suspended curtain track or freestanding curtain track with the addition of a top valance. The curtain valance is used for additional separation in your fabric structure building. Usually ideal for temperature zoning or dust control. The bottom curtain opens and closes to allow access while the top is static.
Static Position Curtain -
Full Coverage
With this configuration you have one large curtain that only attaches at the top. The curtain is static in position so that it does not open or close. This configuration most often times features and access point like a strip door, roll up door or a swinging door to allow access to both sides for people and forklifts.
Easy Install
Warehouse partitions come with grommets at the top making hanging the curtains quick and easy with or without the curtain track.
 Inexpensive
Warehouse partition curtains are about 1/3rd of the cost of other separation methods such as rigid walls or panel systems and are easy to store.
Separate Workers
Warehouse partitions are ideal for separating workers for welding, washing, packaging and many other operations.
Control Noise
Warehouse partitions help reduce noise due to the thick PVC they are made from which makes for a more comfortable work environment.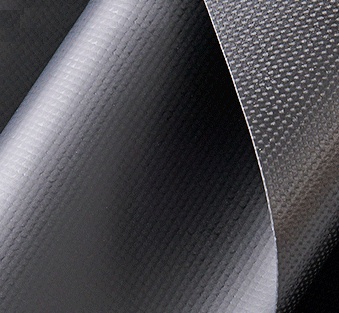 Opaque Vinyl
Industrial grade 18oz opaque vinyl ideal for moderate temperature control and blocking line of sight. $$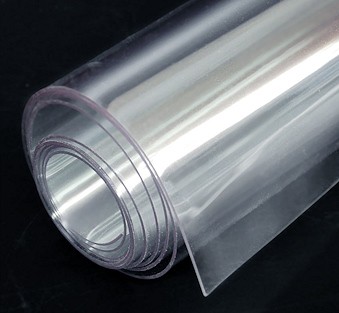 Clear Vinyl
Industrial grade 30mil clear vinyl ideal for moderate temperature control and allowing a line of sight. $$
Insulated Vinyl
Industrial R3 1/2" thick material with 18oz vinyl skins ideal for heavy temperature control and blocking the line of sight. $$
Entry Points In the Partition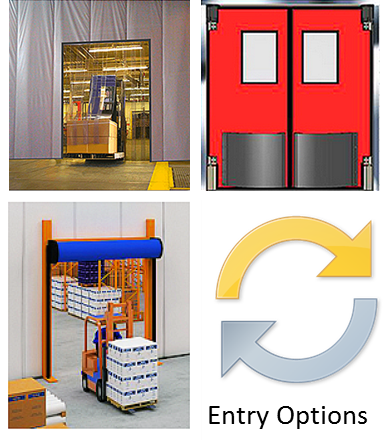 Entry Options
If you are using larger static position warehouse partition curtains that will not roll side to side then using entry points is ideal. These openings allow people and product into the curtained area quickly and with little effort. The most common entry and exits are strip curtains, swinging doors or powered roll up doors. Strip doors being the most common and economical. Each version features a freestanding frame that anchors into the floor and seals to the curtain wall.
Curtain Track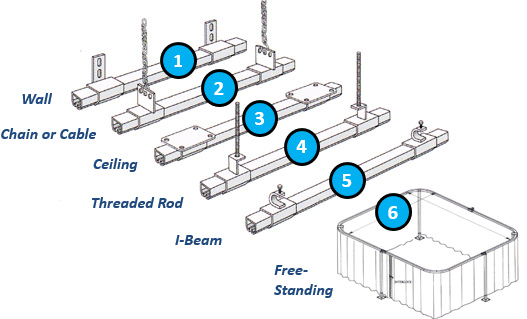 16 gauge galvanized steel tracks
Nylon roller hooks for easy opening
6 mounting styles to connect to various structures
Free standing hardware for up to 20' in height
Static Mount Hardware

Aluminum Angle - Use with self tapping Tek screws to pinch curtain to angle.
Grommets Only - You can then use many DIY methods to hang the curtains.
Beam Clamps - Clamps onto the flange of beams, joists and purlins.