Overview
AKON's climate-controlled curtains will help you create and maintain a healthy warehouse environment; making work and product storage safer.
Warehouses that store food or medicaments require a temperature-controlled environment. The need for refrigeration makes thermal insulation vital for the well-being of these items.
By using customizable warehouse curtains, you can create temperature zones for specific items, while keeping other zones pleasant for working. Maximise existing space while achieving suitable temperatures elsewhere. Whether for temporary or permanent use, AKON can offer a solution. If you need thermal insulation only for seasonal use, you can always take down and store the curtains. Our custom curtain walls are simple to install and are highly cost-efficient.
Temperature Zoning
Create temperature zones for storing products at different temperatures or to create a more comfortable work environment.
Humidity Control
Effectively control humidity levels within your facility for food products or for better manufacturing processes.
Separate Tenants
Zone or lease out your warehouse to tenants who need to be kept separated due to their different operations.
Control Noise
Insulated curtains are also dual purpose noise control curtains due to the thick batting they are made from.
How Long Can You Use The Curtains?
Curtain Specifications And Installation

The warehouse insulated curtains have a thermal batting inside of two outer layers of reinforced Vinyl. The material is fire-retardant to meet local and state regulations. Batting thickness depends on your required warehouse temperature separating needs.
Temperature separation is up to 40F. The thicker the batting, the higher the R-value you will achieve. Feel free to ask questions about which R-value is ideal for your warehouse. For instance, if your needs are short term, it is best to choose a lower R-value to reduce costs.
The curtains come in panels that are '5  wide that Velcro together from top to bottom. Once connected they form walls that can be in almost configuration. They run from the roof deck to the floor or from the bottom of the joists to the floor. Aluminum angle is the most common mounting method as it quickly attaches to the roof deck. You simply connect the angle to the structure and then use Tek screws with washers to pinch the curtain panels every 12″ to the angle.
Our Curtain Walls Are Custom Per Your Application
There are a lot of options to choose from when designing your curtain wall:
Curtain style. Choose between rolling or static. Rolling curtains can open on curtain tracks and are used for smaller openings or doors. Static curtains are ideal for medium or large walls
Curtain layout. Choose between straight, multiple side, or something specific
Static mounts. These include aluminum angles, grommets, and I-beam clamps
Track mounts. These include wall, chain, cable, ceiling, threaded rod, I-beam, or free-standing types
Different insulation levels
Accessories such as floor sweeps, anchor straps, and more
Entry and exit locations. The most common entry and exits are strip curtains or swinging doors. Each version features a freestanding frame that anchors into the floor and seals to the curtain wall
Colors. Lastly, there are many colors to choose to give your curtains a more industrial look
Designed For Speed and Flexibility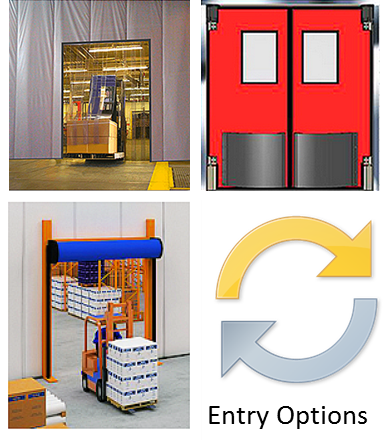 Entry Options
If you are using larger static position curtain walls that will not roll side to side then using entry points is ideal. These openings allow people and product into the curtained area quickly and with little effort. The most common entry and exits are strip curtains, swinging doors or powered roll up doors. Strip doors being the most common and economical. Each version features a freestanding frame that anchors into the floor and seals to the curtain wall.
The Benefits Of Using Temperature-Control Warehouse Curtains
The Key Benefits Include:
Quick installation with 5-feet-wide Velcro panels
Create temperature-controlled zones and save on heating / cooling costs
Since you can choose the height and width, every space across the curtain wall will be covered and properly insulated
The installation process is not only faster, but easier and cleaner. Installing traditional dividers with timber stud or masonry will produce dust and generally require more time to set up
The climate-control curtains can fit tight spaces and thus save more room for other operations
Modular in design for future use. If the need arises, you can always move the curtains elsewhere or store them
Possible access options for easier navigation
Curtain walls are as good at insulating your warehouse as rigid walls while being up to three times more affordable
Design A Climate-Controlled Warehouse Curtain