OVERVIEW
When you need to separate your work bays you can use the AKON line paint spray booth curtains. These curtains will keep paint over spray in and contaminants out of your paint bays. This retractable barrier rolls open to allow full access and then closes to form a complete enclosure.
Designed For Speed and Flexibility
Common Applications
Curtains for spray booth
Curtains for paint booth prep
Curtains for paint shops
Paint booth curtain walls
Common Spray Booth Configurations
There are many different configurations that you can choose from when designing your curtains for your paint spray booth. Some configurations are single sided while others are complete 4 sided enclosures. The width and heights are all custom cut per your specifications.
The track used to support the paint booth curtains are 16 gauge galvanized steel which is unpainted and corrosion resistant. The track can be supported from the buildings roof deck or can be completely free-standing. View more information on industrial curtain tracks to choose the style that is right for you.
Photo Gallery
Click below to view some common configurations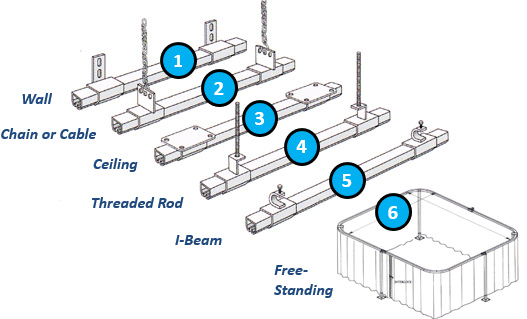 Rolling Hardware
16 gauge galvanized steel tracks
Nylon roller hooks for easy opening
6 mounting styles to connect to various structures
Free standing hardware for up to 20' in height
Static Hardware
Aluminum angle - Use with self tapping Tek screws
I-beam clamps - Clamps onto the flange of beams, joists and purlins
Click Below For A Rapid Quote