Overview
If you want to hide your garage shelves and keep everything tidy, we have a great solution. AKON's custom curtains will divide your garage into smaller areas and hide the shelves' clutter. Your garage will look better, be safer to use, and a bit more heating-efficient as well.
Privacy Curtains For Garage Shelves
Low-Cost, Low-Maintenance, Long-Lasting
Having an organized garage is more than a dream. It is a reality which every homeowner should be able to enjoy. Making a garage more appealing is easier than ever before. Creatively cover up any shelving units while keeping them easily-accessible.
Being priced at only a fraction of the cost of permanent walls, our curtains can do everything, but better. Since you can customize their layout and size, you can make sure they are exactly as big as you need them to be. We also sell fabric curtains while are great for vehicle photo sessions.
Hide Garage Shelves With Ease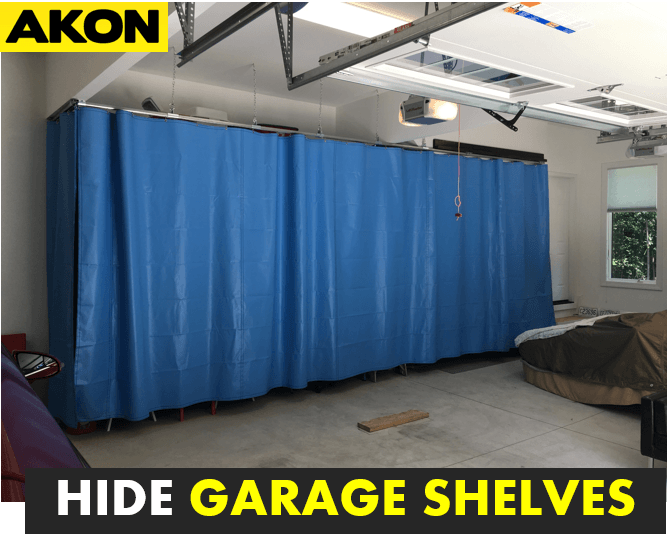 Our Dividers Are Made To Last
The industrial-grade vinyl we use will completely hide garage shelves. This material is also ideal for different welding applications. If you ever plan on conducting welding operations inside the garage, the curtain will prevent sparks and flashes from causing damage.
Worth noting is our curtains are NFPA fire retardant and CFM fire retardant. They are made for multi-purpose applications, and you can always reuse them elsewhere should the need arise. Their finished edges gives them their clean crisp appearance. Meanwhile, the double or triple hems guarantee better longevity. The vinyl surface is really easy to clean, and almost maintenance-free.
So, if you need curtains to cover garage shelves, we are here to help.
What Makes Our Curtains For Garage Shelves Special?
Curtains For Shelving Unit Benefits
Hide the shelves and thus make your garage look better
Protect your own vehicle in case the shelves fall
You can place the curtains near the entrance to block flying debris from entering your garage
Divide up the inside space for different tasks
Create your own area of privacy in the garage
Save on heating and cooling with our special insulated version
Less expensive than rigid walls or other wall solutions
You can reposition garage privacy curtain in other areas of your home
If you don't need it at the moment – quickly and easily take it down
Ability to purchase more curtains and attach to existing ones
The vinyl's slick surface is easy to clean
Lifetime warranty on all hardware and 5-year warranty on curtains
Fully-Customizable Garage Shelf Curtains

By filling in a quick quote form, you can choose what specific features your new garage shelf curtain should include. Here is what we offer:
Custom layouts with one or many sides. You can also upload your own unique design
Choose specific widths and heights
Choose one of many colorsTrack which allows the garage privacy curtain to roll from side to side or go with a standard, non-moving curtain instead
The track can have one of many mount types (wall, chain, cable, ceiling, threaded rod, I-Beam, or free-standing with a maximum height of 14'
Other additional features include floor sweeps, clear vision panels, Velcro seals, chain weights, anchor straps, and strip door entrances
DIY garage curtain made easy! You customize it all you want, and we will get to work and build the perfect curtain for your garage.
Watch The Curtains in Action
Curtain Track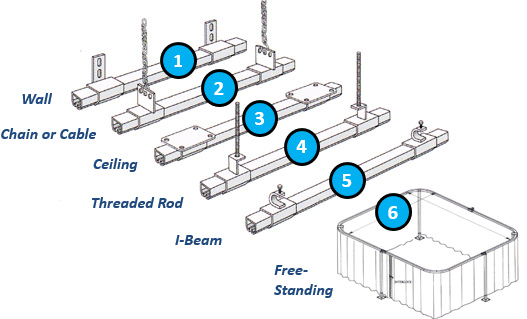 16 gauge galvanized steel tracks
Nylon roller hooks for easy opening
6 mounting styles to connect to various structures
Free standing hardware for up to 20' in height
Static Mount Hardware

Aluminum Angle - Use with self tapping Tek screws to pinch curtain to angle.
Grommets Only - You can then use many DIY methods to hang the curtains.
Beam Clamps - Clamps onto the flange of beams, joists and purlins.
Click Below For More Information