OVERVIEW
You can use the Akon line of FDA food grade Curtains to contain wash down overspray or to simply divide up work areas for a cleaner environment. These food grade Curtains comprise of specially designed stainless steel curtain track and heat sealed antibacterial vinyl.
FDA Approved Curtains
These FDA approved Curtains are the result of hundreds of hours of testing and design. Take for instance the curtain track. This curtain track is specifically engineered to prevent the collection of debris from wash down applications. There are no crevices where food debris can collect and lead to bacteria growth. The FDA food grade curtains are completely supported by this stainless steel track which will resist corrosion and rust.
The heat sealed vinyl is also specifically designed to prevent the growth of bacteria. Unlike traditional Curtains which are sewn, the FDA approved Curtains are heat sealed. This prevents any debris, such as food, from getting under the folds which in turn would result in bacteria growth. If you would like more information on these unique FDA food grade Curtains you can click on one of the buttons below.
Curtain Track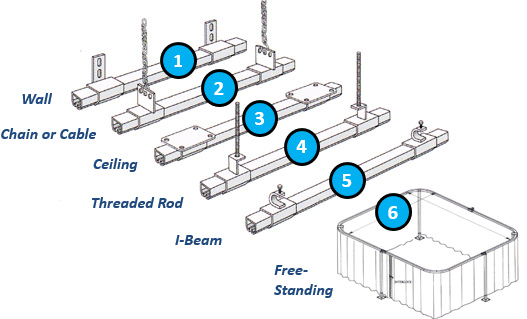 16 gauge galvanized steel tracks
Nylon roller hooks for easy opening
6 mounting styles to connect to various structures
Free standing hardware for up to 20' in height
Static Mount Hardware

Aluminum Angle - Use with self tapping Tek screws to pinch curtain to angle.
Grommets Only - You can then use many DIY methods to hang the curtains.
Beam Clamps - Clamps onto the flange of beams, joists and purlins.