OVERVIEW
Each aspect of the AKON, LLC Food Grade Approved and Certified Curtains has been specifically designed to help maintain a safe and sanitary environment for food processing plants. Our list of end users for the product include Frito-Lay, Nestle, Pepsi, Kraft and numerous other food processing plants throughout the United States and Canada. This product has been well received by end users since its inception into our product line. Thus, we stand behind this product as your trusted source to keep your plant clean and your workers and equipment safe year-round.
Stay In Compliance With Approved Curtains
Key Benefits of the Food Grade Approved Curtains
Curtain material is constructed from 40 mil USDA grade clear non-porous flexible PVC leaving bacteria with no place to grow. Traditional PVC curtain materials can collect bacteria and create an unsanitary environment if left untreated.
Stainless steel "open top" track and trolley system minimizes crevices and allows for a constant airflow across the hardware. This design eliminates dark, stagnant areas created by enclosed track systems where bacteria can harvest and grow.
Design prevents cross contamination between processing lines. End users of this food grade approved curtain system are drawn to the curtains ability to sanitarily contain one area from another, for example preventing ingredients from one mixing process from entering another mixing process in their plant.
Effectively reduce process line shut down during wash down cycles by creating a sanitary barrier between the areas with the food grade accredited curtains.
Double reinforced top hem and no hems on bottom or vertical edges. Overlapped hems and sewn hems leave yet another place for bacteria to enter and grow. A custom top hem that eliminates the "bubble effect" created by an overlapped hem but still offers the durability that a top hem demands from not only the weight of the curtain but from day-to-day pulling and sliding by plant workers.
Food Grade Curtains Stay Clean
Curtain panel sections overlap on trolley hooks eliminate the need for Velcro connections. Velcro connections made from traditional nylon and polyester inevitably become wet and dirty in a food processing environment. With each panel section overlapping by 12" or more on the hardware trolley hooks, you can effectively prevent wash break-through and cross-contamination while at the same time maintaining the sanitary environment that you demand.
All surfaces of the food grade certified curtain are wash down capable.
The extruded PVC is the clearest in the industry. While some extruders of flexible PVC can have a "cloudy" tint, our PVC material has been praised for its excellent clarity for over 20 years.
Custom sizes and radius bends available. No matter what your size or scope of project is, AKON LLC can custom manufacture a solution for your specific application.
Order accuracy assurance. AKON, LLC takes getting your order right as top priority. For any order, approval drawings are created by engineers and are required to be signed and dated before production.
Easy Install
Food Grade curtains come with grommets at the top making hanging the curtains quick and easy with or without the curtain track.
 Inexpensive
Food Grade curtains are about 1/3rd of the cost of other separation methods such as rigid walls systems and are easy to store.
Separate Workers
Food Grade curtain walls are ideal for separating workers, allergens, washing, packaging and many other  food production operations.
Guard From Spray
Food Grade curtains are quick to deploy which will keep your non-wash down areas clean and dry and away from bystanders.
Superior Protection And Durability
Curtain Track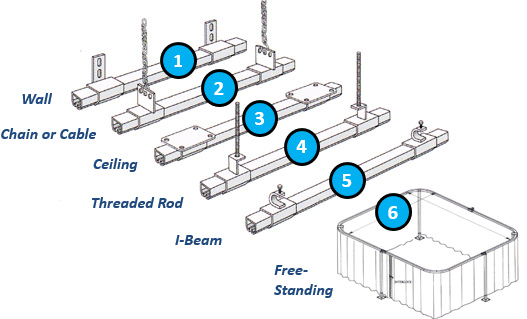 16 gauge galvanized steel tracks
Nylon roller hooks for easy opening
6 mounting styles to connect to various structures
Free standing hardware for up to 20' in height
Static Mount Hardware

Aluminum Angle - Use with self tapping Tek screws to pinch curtain to angle.
Grommets Only - You can then use many DIY methods to hang the curtains.
Beam Clamps - Clamps onto the flange of beams, joists and purlins.