OVERVIEW
At Akon, we specialize in supplying facilities with industrial divider walls which control temperatures, odors, fumes, and provides dust containment. This separation might be used to protect one area from flying debris, or it might be used to isolate cold air from warm air to reduce the utility bills for the company.Whatever the reason, our curtains will permit you to exploit all of your obtainable space more resourcefully while increasing employee comfort, satisfaction, and efficiency.
Warehouse Partition Wall Systems
Control Temperatures and Save Money
With the use of our industrial divider walls you can effortlessly control temperature, loud noises, visual distractions, and even flying debris. You will also find that almost all of our dividers are equipped with rollers and tracks which will allow your workers to effortlessly slide the curtains based on their access needs.
When you call Akon you will be greeted with a knowledgeable staff which can guide you through the requirements of your application. This helpful guidance will ensure that you are supplied not only with the right industrial divider wall, but with a product that will last years rather than months.
Divider Wall Construction
Our divider walls are constructed to endure years of rigorous industrial usage while performing as well as the day that they are installed. There are also many colors and configurations you can choose from based on your specific needs. These curtains are made from the same material as you find with trucking tarps used to cover loads on semi-trailers. This material is slick, strong, tear resistant and made for many years of use.
How to Divide Warehouse Spaces
How To Divide Space in Your Warehouse
As a supplier of industrial divider walls, we know that with our shrinking economy, factories and major manufacturing plants are finding that their output is drastically decreasing. This decreasing output results and floor space which is no longer used for production and becomes a drain on the company's resources. This is where a industrial divider walls can be utilized. With the use and installation of these curtains, a factory can section off used floor space from unused floor space. Essentially dividing up their floor into zones. The zones that are no longer required for day-to-day operations can be sealed off and essentially shut down.
The benefit of dividing unused floorspace from used floorspace is to realize a substantial savings in heating and cooling costs. There is no reason that a company should have to heat or cool large areas which are no longer being used to produce goods or services. This is especially important as energy costs continue to rise and become a larger portion of a company's expenses. With the installation of a warehouse partition wall system, a large facility can cut their heating bill almost in half. This results in an enormous amount of energy cost savings every month.
Warehouse partition wall systems can also be installed quickly and at a fraction of the cost of a fixed permanent walls. They can also be modified quickly as changes in production take place. For instance, they can have strip doors, see-through vision panels, additional curtain panels, and forklift access doors added quickly after installation. This type of flexibility simply is not possible with fixed partition walls. In addition, fixed walls are expensive to install, and often times require major renovation and downtime to implement.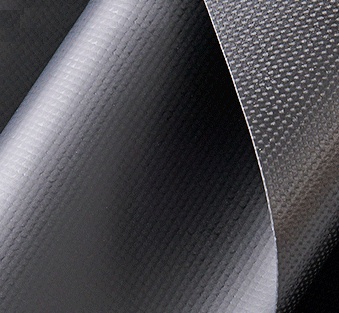 Opaque Vinyl
Industrial grade 18oz opaque vinyl ideal for moderate temperature control and blocking line of sight. $$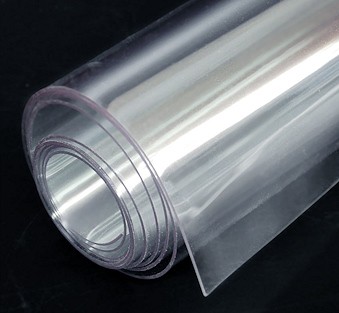 Clear Vinyl
Industrial grade 30mil clear vinyl ideal for moderate temperature control and allowing a line of sight. $$
Insulated Vinyl
Industrial R3 1/2" thick material with 18oz vinyl skins ideal for heavy temperature control and blocking the line of sight. $$
Complete Containment Solution
Curtain Track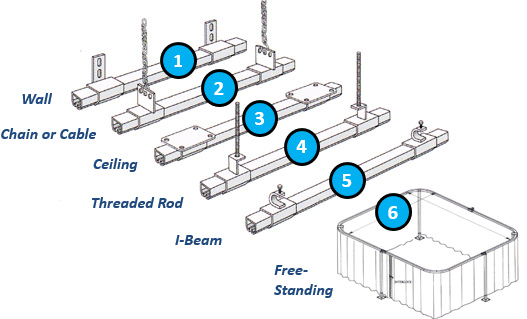 16 gauge galvanized steel tracks
Nylon roller hooks for easy opening
6 mounting styles to connect to various structures
Free standing hardware for up to 20' in height
Static Mount Hardware

Aluminum Angle - Use with self tapping Tek screws to pinch curtain to angle.
Grommets Only - You can then use many DIY methods to hang the curtains.
Beam Clamps - Clamps onto the flange of beams, joists and purlins.