OVERVIEW
Akon supplies a solution for industrial humidity control that is oftentimes far less expensive than traditional methods of controlling humidity. Our line of insulated curtain walls can provide your warehouse, manufacturing plant, or distribution center with a cost-effective way to contain heat or to separate and partition work areas that will maintain different temperatures. To ensure the comfort of your workers or to maintain the quality of your products in your warehouse, facilities can oftentimes bring up some major questions. For instance, should you undertake a costly construction project for fixed permanent walls, or should you move your operations to a new expansion that would require even more capital, time, and resources?
Superior Strength And Flexibility
Aside from the fact that permanent partitions are costly, they are actually time-consuming, which will probably be a setback for the company. However, the industrial curtain is easier and more affordable to install. With the use of a curtain, there is a high standard of production concealment and dynamic separation flexibility. The steel roller enables the partitioning of curtains to be easily installed and removed.
These warehouse dividers are very different from a fixed rigid wall or a panel style walls as they are not a permanent structure. They can be quickly installed, modified, taken down and then re-installed which gives them a much greater flexibility than that of a fixed wall. Another benefit is the fact that our industrial humidity control walls can be stationary or movable with slide tracks.
So if there is a need for material to be moved into or out of a work area, the associate can simply walk the curtain to the open position, much like a shower curtain. For more frequent movement needs, a door can actually be installed right into the wall. This minimizes the exchange of humidity from one side to the other.
Quick Access To Both Zones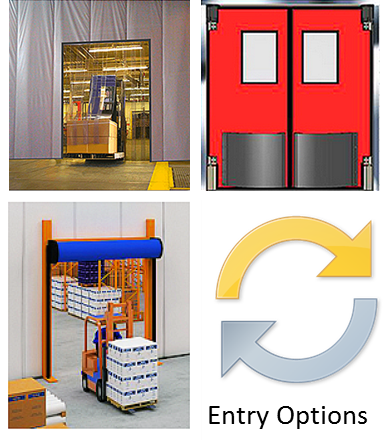 Entry Options
If you are using larger static position curtain walls that will not roll side to side then using entry points is ideal. These openings allow people and product into the curtained area quickly and with little effort. The most common entry and exits are strip curtains, swinging doors or powered roll up doors. Strip doors being the most common and economical. Each version features a freestanding frame that anchors into the floor and seals to the curtain wall.
Benefits Beyond Humidity Control
Temperature Zoning
Create temperature zones for storing products at different temperatures or to create a more comfortable work environment.
Humidity Control
Effectively control humidity levels within your facility for food products or for better manufacturing processes.
Separate Tenants
Zone or lease out your warehouse to tenants who need to be kept separated due to their different operations.
Control Noise
Insulated curtains are also dual purpose noise control curtains due to the thick batting they are made from.
Complete Containment Solution
Designed Around Your Humidity Control Needs
Each and every humidity control divider is designed around your specific needs. There are many factors which will determine which model, fabric, structure, features and style of curtain you will need. You can be confident that we will evaluate all of these factors before we make a recommendation.
We know that your humidity control and temperature control is your driving reason for purchasing our dividers so we will design a solution around that simple task.
There are three basic types of divider walls and curtains which we will consider
Insulated – walls or curtains
Non-insulated – walls or curtains
Wash down – walls or curtains
These walls can be used together as a complete system, or they can be used as a stand-alone single solution. In addition, each of these solutions can include features such as doors, windows, tie down straps, roller slide tracks, and a host of other features.