OVERVIEW
If you want to upgrade your office, work station, or facility, our custom-made industrial looking  curtains are the perfect choice. We offer industrial chic curtains and industrial design curtains; both of which have amazing, clean looks. You can create your own model by filling one of our "request a quote" forms. Whether you want to go with solid or strip curtains, our friendly staff will be there to help you make the most efficient choice.
Our curtains are available in different varieties and they have the flexibility to suit every lifestyle and budget. You can stylishly integrate any choice of look, be it archetypal, contemporary, or trendy. AKON's industrial looking curtains are an amazing way to create a fresh look for your office.
Industrial Design Curtains
Effective And Efficient
AKON Industrial looking curtains are a one of a kind decorative solution which will transform your office or facility into a sanctuary! The building material is not only durable, but environmentally friendly as well. With vibrant and colorful designs, these industrial chic curtains will add a great perspective to the look of any room.
Industrial Design Curtains
Free standing curtain enclosures can act as area dividers. With them, you can set up booths for special activities and reorganize any facility, office, runway or office space. The best part is - you can customize these industrial looking curtains all you want and create your own unique design!
AKON Industrial Looking Curtains Are Great For These Applications
Ideal Solutions For
Industrial Office Curtains
Industrial Chic Runway Curtains
Industrial Style Fashion Curtains
Chic Privacy Curtains And Dividers
Industrial Cafeteria Curtains
Industrial Loft Curtains
Industrial Hotel Curtains
Industrial Work Place Curtains
Custom Made Per Application
AKON Industrial Looking Curtains are custom made to suit your application. You can have any width you need and up to 30′ in height. The setup includes two components which are the industrial curtains and the hardware. The curtains come in different colors and materials depending on your needs. Usually, we use 18oz Reinforced Vinyl for opaque colors, 20mil Vinyl for all clear curtains and 14 mil tinted for all see through color curtains. You can also combine static curtains with operable side-to-side curtains and strip curtains with solid curtains.
Industrial Looking Strip Curtains
Tinted

Red
Widths: 8", 12"
Darkness: 2 out 4
Tinted

Bronze
Widths: 8", 12"
Darkness: 3 out 4
Tinted

Orange
Widths: 8", 12"
Darkness: 2 out 4
Tinted

Blue
Widths: 8", 12"
Darkness: 2 out 4
AKON Industrial Looking Curtains Are Great For These Applications
Do You Need Strip Curtains?
Strip Curtains For Offices

AKON's custom made PVC strip curtains are the perfect solution if you want your office to have an industrial look while being easy to navigate through. These curtains can be room decorations and dividers at the same time. Exercise your creativity by choosing a specific color, layout, mount type, and more. Our curtains are highly customizable; allowing you to create a unique design for your office. The strips are clear for a line of sight.
Strip Curtain Benefits
These Industrial Looking Curtains can give your office a new and stylish look. You can use them for office decoration, residential room dividers, indoor and outdoor art projects, museums, and more. Other than giving your office a unique style, these curtains will provide noise protection as well. Forget about the old-fashioned office cabins and choose our strip curtains instead. They will make your office feel more bright, colorful, and alive.
Do You Need Solid Curtains?
Solid Curtains For Offices

AKON's custom made free-standing curtains are another great choice should you want to give your office a nice and clean industrial look. With only a few minutes of work, you can completely renew your office. The solid curtains will give any room a vibrant and colorful feeling to it. Open your imagination to the possibilities. What we offer is the ability to transform any office by giving it a friendly and warm environment.
Solid Curtain Benefits
The solid curtains for offices offer an all-in-one solution: they look amazing, have unique designs to choose from, and make your office more secure. They fit nicely with office desks and furniture. These freestanding curtains provide proper temperature, noise, and dust control. Moving through them can be made easy by adding a strip curtain entrance. Give your office an amazing new look which stands out from the competition.
Curtain Track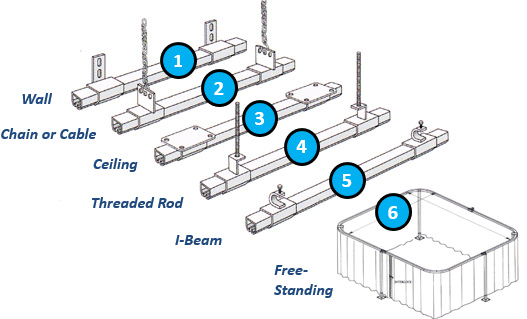 16 gauge galvanized steel tracks
Nylon roller hooks for easy opening
6 mounting styles to connect to various structures
Free standing hardware for up to 20' in height
Static Mount Hardware

Aluminum Angle - Use with self tapping Tek screws to pinch curtain to angle.
Grommets Only - You can then use many DIY methods to hang the curtains.
Beam Clamps - Clamps onto the flange of beams, joists and purlins.