Overview
AKON's insulated barn curtains are the perfect solution for dividing workspace. They offer ease-of-access and temperature control for any livestock, hog, and dairy barn. Dust buildup, snow, rain, wind, UV-light, and small pests are taken care of. AKON's curtains will also prevent diseases or bacteria from infecting the farm animals.
These curtains are constructed from heavy-duty vinyl, a commonly used material in industrial and commercial applications. They are easily customized to allow for a proper fit and installation inside of your barn. Most importantly, they will create a stable temperature zone which prevents heat or cold loss.
Create work areas in your barn with ease. The insulated curtains come in many sizes and shapes, thus allowing you to decide which combination will fit the best. They are a great alternative to permanent walls as they are inexpensive, quicker to install, and easy to move or take down.
 Inexpensive
Insulated barn curtains are about 30% of the cost of other separation methods, such as rigid walls or panel systems.
Humidity Control
Prevent condensation, control humidity levels inside the barn, and maintain a healthy environment for work.
Easy Install
Barn curtains come with grommets at the top. Having a curtain track is not mandatory, and it takes very little time to set them up.
Control Noise
The curtains' thick batting also acts as a noise barrier and will effectively keep the environment quieter.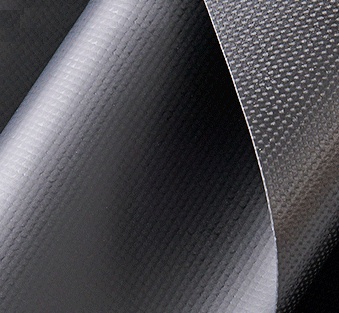 Opaque Vinyl
Industrial grade 18oz opaque vinyl ideal for moderate temperature control and blocking line of sight. $$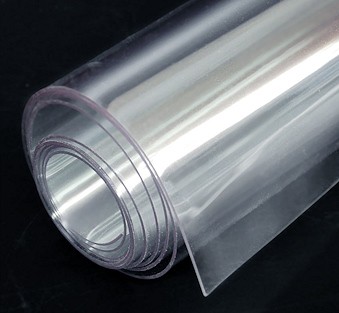 Clear Vinyl
Industrial grade 30mil clear vinyl ideal for moderate temperature control and allowing a line of sight. $$
Insulated Vinyl
Industrial R3 1/2" thick material with 18oz vinyl skins ideal for heavy temperature control and blocking the line of sight. $$
Create Smaller Work Areas Inside The Barn
Temperature Control R-Values
You can choose from 3 different R-Values for our insulated barn curtains. R-Value is the capacity of an insulating material to resist heat flow. The higher the R-value, the greater the insulating power of our curtains.
As a general rule, the longer you plan to have your thermal curtain installed, the higher R-Value you should choose. This will give you the best ROI on your investment. If, however, your need is short term, then it is best to use the less expensive R-Values as long term energy savings will likely not be gained.
R3 – Standard Separation – Retractable and Stationary
R6 – High Separation – Retractable and Stationary
R9 – Highest Separation – Stationary 
Create An Efficient Workspace
Overall, the insulated barn curtains will create two or more work areas. The areas may be next to each other, but are able to maintain completely different temperatures. Your barn will also have minimal temperature losses when you are moving through the curtains since it is so easy and quick to pass through them.
Floor Engagement
Normal curtains commonly suffer from cold air passing below them, jeopardizing your efforts in keeping the indoor area warm. The effectiveness of such curtains is essentially lost, and they no longer provide suitable insulation levels. The solution we provide is adding a floor sweep which covers the space between the curtain and floor; thus preventing the temperature control issues.
We prevent the flow of air from one temperature zone to another with 8" tall sweep which Velcros onto the bottom of the curtain and hangs 6" below it. You can always replace it with a taller or shorter sweep if you need to use the insulated curtains in another location with a different elevation.
Personalize Your Insulated Barn Curtain
Custom Features

We offer a large list of custom features for you to choose. We will carefully design your curtain so it fits perfectly and protects the barn. The features include:
Layouts. Options for straight or multiple sides
Sizes. Enter the height and width of the area you want to cover
Colors. Blue, white, red, tan, beige, gray, black, green, yellow, orange, or brown
Materials. With different strength depending on the application
Curtain Mounts. The options here are many and depend on the application
Features. These include floor sweeps, chain weights, anchor straps, and grommets.
Key Benefits
Up to one-third less expensive than permanent rigid walls
Can be taken down quickly, stored, and repurposed if needed
Ability to purchase more insulated barn curtains and attach to existing ones
Divide work areas inside the barn
The vinyl surface is easy to clean
Contain air migration, dust, and over-spray
Lifetime warranty on all hardware and 5 year warranty on curtains
Rolling Hardware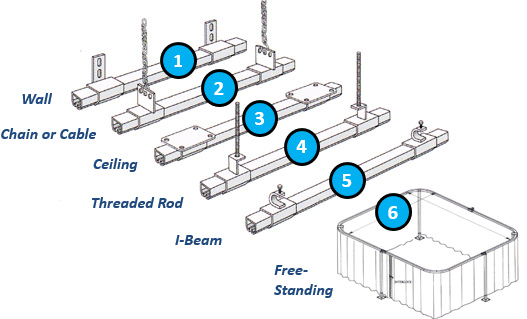 16 gauge galvanized steel tracks
Nylon roller hooks for easy opening
6 mounting styles to connect to various structures
Free standing hardware for up to 20' in height
Static Mount Hardware

Aluminum Angle - Use with self tapping Tek screws to pinch curtain to angle.
Grommets Only - You can then use many DIY methods to hang the curtains.
Beam Clamps - Clamps onto the flange of beams, joists and purlins.