AKON's Alternatives To Plexiglass Solutions
Are you sick and weary of making things out of plexiglass? Look nowhere else! Here are some excellent plexiglass substitutes that can work just as well or even better. Popular substance plexiglass is utilized in a variety of sectors, including manufacturing and building. It's not always the greatest option, though, and there are several that can work just as well. We shall examine some of the top plexiglass substitutes in this article and their advantages. Lightweight and shatterproof acrylic material is called plexiglass. That might not be the greatest option for every job, though. Here are some of the best plexiglass substitutes:
Alternative 1: Portable Clear Divider Screens
OVERVIEW
The screens are commonly used for industrial workplace separation and for keeping production factory workers at a safe distance from their fellow workers. These screens can form a single separation wall, a two-sided enclosure, three side enclosure, or four sided enclosure along with multiple other configurations. When it is critical to keep people working at safe distances the, the portable clear divider screens are a quick solution. As an added bonus, the clear PVC shades are easy to clean with disinfectants and they will not harm shades.
Alternative 2: Clear Hanging Screens
OVERVIEW
The clear hanging screens can separate people for safe social distances. The clear material is easy to see through and is quick to hang from high places including drop ceilings or tall warehouse purlins. These screens are great for stores, factories, and warehouses. Other common uses include dental offices, service counters, for bartenders, pharmacies, hospitals & clinics, grocery stores, convenience stores, reception desks, banks, retail POS, and other venues.
Made to your exact size
Solid pipe with crystal clear 40mil PVC
Simply hang using small steel cables
PVC shades are easy to clean with disinfectants
Alternative 3: Isolation Strip Curtains
OVERVIEW
If you need complete access in and out of an area quickly, but still want to separate it from other areas, then the hanging divider strip curtains are ideal. These are clear strips that hang straight down allowing people to walk through with ease. They will still offer protection against dust, sound, and pests. The curtains will also improve temperature control.
Alternative 4: Clear Isolation Curtain Rolls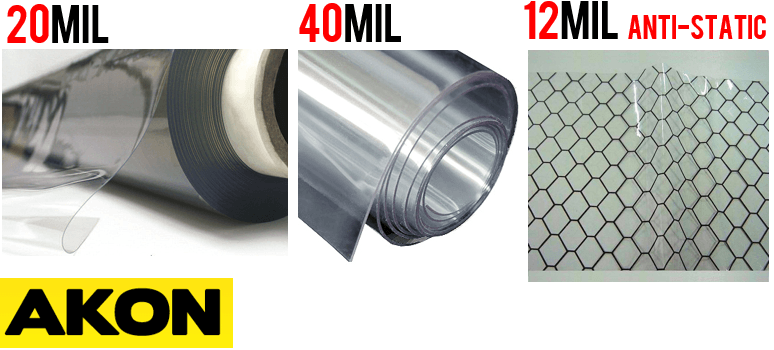 OVERVIEW
Our last plexiglass alternative. If you are in a hurry and need a clear separation curtain quickly, then you can choose clear bulk rolls which are stocked and ready to ship. You can hang these using lots of different methods and form all kinds of shapes and enclosures. Unlike the other clear hanging dividing screens these are off the shelf solutions and can ship same day or following day.
Things To Consider Before Choosing Plexiglass Or One Of Our Alternatives
AKON's Alternatives Have Serious Advantages:
They are fully-customizable
You can choose sizes, layouts, colors, accessories, and more
They are less expensive to purchase than plexiglass
Extremely flexible
Do not scratch
Do not crack
Less expensive to ship
Easy to set up, take down, move, and store
Less expensive to replace
Can always be repurposed elsewhere
More readily available due to worldwide shortages
And lastly, our team will be there to assist you in designing your own curtains or screens
What Is Plexiglass Made Of?
Plexiglas can be created from polymers of methyl methacrylate. In it's essence, this is a plastic material.
Acrylic is a transparent thermoplastic product; a synthetic polymer of methyl methacrylate. A type of plastic. Manufacturers often create it in small sheets.
Ever it's development in 1928, this material has been widely used in all sorts of industrial. It has been popular for both commercial and residential purposes.
Different brands have used the material to set up trademarks. Even to this day, plexiglass remains one on humanity's great achievements.
Plexiglas itself is an amazing alternative to glass. It has always been one of the most commonly used plastic materials. Unlike usual glass, it is shatter-proof, flexible, and a bit better transparency.
It can, however, develop a yellow-ish color after long periods of use, and could scratch.
What Are Some Common Plexiglass Uses?
Setting Up Durable Windows
Plexiglass is as clear as normal glass but much tougher. It is easier to maintain because it doesn't collect much dirt.
Bath Glasses
Plexiglass can be used to create beautiful and safe bathroom enclosures.
Greenhouses
Plexiglass greenhouses are efficient because they are sturdy and let the light pass through. Breakage of panes will rarely be a problem. Plexiglass does offer good dirt control. It also doesn't require much when it comes to maintenance.
Solar Panels
Plexiglass is a great material for solar panels. It can resist harsh weather conditions better than tempered glass and allows up to 90 percent of all light to pass through the panels.
Information Signs
Plexiglass is useful for information boards. Law firms and notaries particularly.
Furniture
Tables, desks, shelves, and patio sets often use plexiglass.
Conclusion
Plexiglass is a well-liked material, but there are substitutes that might be just as good or even better. Considerable possibilities include polycarbonate sheets, PETG sheets, acrylic sheets, and polystyrene sheets. Every material has different qualities and advantages, so it's crucial to pick the best one for your particular project. You might discover the ideal material for your subsequent job by looking at these options.