OVERVIEW
Akon can supply you with a complete line of power washing curtains which will contain the overspray from your power washer. The curtain hardware is designed from stainless steel which will resist corrosion from the continuous exposure to water and chemicals.
Common Applications:
Body Shop Bays
Clean Room Environments
Wash Rack Curtains
Contain Power Wash Overspray
Power Washing Curtain Specifications
Hardware prevents the collection of debris in the curtain track
Stainless steel prevents corrosion and contamination
Clear curtain barrier promotes safety
Heat sealed hems create a waterproof seal
Heat sealed hems prevent the growth of bacteria
Power washing curtains will remain flexible even at -20 F
Special curtain hooks that will not collect contamination
Resistant to most chemicals and soaps
Easy Install
Power washing curtains come with grommets at the top making hanging the curtains quick and easy with or without the curtain track.
 Inexpensive
Power washing curtains are about 1/3rd of the cost of other separation methods such as rigid walls systems and are easy to store.
Separate Workers
Power washing curtains are ideal for separating workers for welding, washing, packaging and many other operations.
Guard From Spray
Power washing curtains are quick to deploy which will keep your non-wash down areas clean and dry and away from bystanders.
The Leader In High Spray Containment
Benefits Include
Power washing curtains will contain all overspray
Keeps the work environment clean
Controls contaminants from spreading
No stitching is used which prevents bacteria growth
Power washing curtains can be portable
Very easy to install and keep clean
Improved working conditions for workers
Less Expensive Than Walls
Why Power Washing Curtains?
The Akon line of power washing curtains is versatile enough to prevent contamination between food processing machines or to simply contain over spray from wash bays. Using these unique curtains will certainly result in a cleaner work environment for your employees and results in a significant reduction in cleanup. They are much less expensive than traditional fixed walls and they can be easily moved from location to location with a portability option.
Unlike curtains from our competitors, these power washing curtains feature heat sealed hems which eliminates the gaps that are present from stitched curtains. This prevents bacteria from taking hold and greatly reduces any chance of contamination. If clear USDA grade PVC is not ideal for your application, we have a wide variety of materials to choose from.
Ideal for Industrial and Body Shops
Curtain Track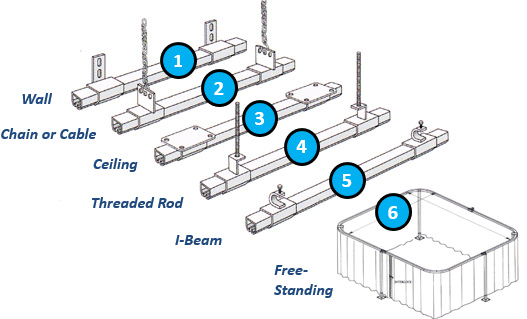 16 gauge galvanized steel tracks
Nylon roller hooks for easy opening
6 mounting styles to connect to various structures
Free standing hardware for up to 20' in height
Static Mount Hardware

Aluminum Angle - Use with self tapping Tek screws to pinch curtain to angle.
Grommets Only - You can then use many DIY methods to hang the curtains.
Beam Clamps - Clamps onto the flange of beams, joists and purlins.