OVERVIEW
Using the Akon line of sanitation curtains your facility can prevent cross contamination during wash down applications. These curtains are designed from USDA approved vinyl which features a non porous construction. This prevents bacteria from growing on the curtains which could lead to sanitation issues.
These industrial sanitation curtains are ideal for dividing space or isolating equipment for wash down. More flexible than fixed walls and a lot less expensive.
Stainless Steel Track
The curtain track is also completely stainless steel which prevents rust or degradation of the components. The design of the track is circular and open as to not allow debris to collect in it from power washing applications. The sanitation curtain track is also USDA approved.
The roller curtain hooks are stainless steel with Delrin rollers. Their unique sanitary design also prevents the collection of debris. These curtain hooks are placed every 12" through the sanitary curtains stainless steel grommets.
Benefits of Sanitation Curtains
Reduce line downtime for wash cleaning cycles
Prevent cross contamination between lines
Curtains overlap to form a solid barrier
Excellent visibility through the clear vinyl
Any length or width is available
Superior Protection And Durability
Curtain Track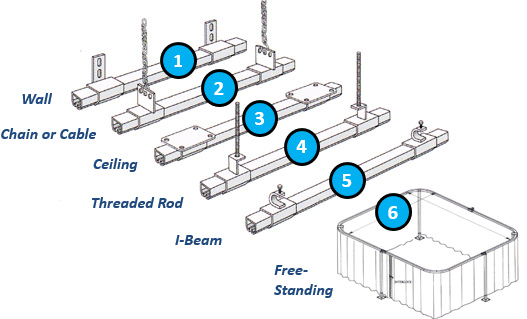 16 gauge galvanized steel tracks
Nylon roller hooks for easy opening
6 mounting styles to connect to various structures
Free standing hardware for up to 20' in height
Static Mount Hardware

Aluminum Angle - Use with self tapping Tek screws to pinch curtain to angle.
Grommets Only - You can then use many DIY methods to hang the curtains.
Beam Clamps - Clamps onto the flange of beams, joists and purlins.