Overview
AKON's custom breezeway curtains will go along the entire breezeway and create a safe place for walking during harsh storms. People will be able to go from one side to the other without having to worry about the weather.
Regardless if the breezeway is located on the ground or high-up between two buildings, we can construct curtain walls which will easily cover it. We can either make large outdoor curtains which span across the entire length, or smaller ones which cover one section at a time. The materials we use are heavy-duty and made for outdoor use.
With the use of our curtains, you will not only create a safer area for everyone to walk in, but also give your breezeway a brand new look.
Our curtains can be custom made specifically for your application. Along with safety and temperature efficiency, they will also upgrade the way your commercial building looks.
Cover Large Outdoor Openings
Large Outdoor Curtains
We often build outdoor curtains for applications where large coverage is required. The curtains can cover the sides of entire buildings, and breezeways are no exceptions.
Vinyl Material
Outdoor walls are exposed to wind, cold, rain, UV light from the sun, and different kinds of pests. These challenges require a special material. The material we use is at the very least an 18oz or 22oz coated vinyl. It is important that the material is a coated Vinyl as laminates when exposed to the cold can experience cold crack.
You do not need large panels or rigid walls to cover breezeways. Our curtains will do just a good a job for a fraction of the cost. Our breezeway curtains are fully-customizable, see-through, and can be taken down with ease when the weather gets better.

Easy Install
The breezeway curtains will arrive with an installation tool kit. They takes almost no time to set up, or take down.
 Inexpensive
Our curtains are about 1/3rd of the cost of other breezeway protection methods such as panel systems.
Temperature Control

Keep the breezeway temperatures consistent during the coldest of winters or hottest of summers.
Weather Control

Keep the wind and rain out when the weather turns nasty but be able to pull open the curtain when the storm calms down.
What Makes Our Breezeway Curtains Special?
Curtain Benefits
Make the breezeway a safer place for walking
Block strong winds, raid, snow, and flying debris
Better temperature control inside the breezeway
Decorate the breezeway with different colors
The curtains are quick and easy to set up
You can always roll down the curtains when they are not needed. Folded, they take up almost no space at all
Reposition or reuse the curtains elsewhere as they are multi-purpose
Ability to purchase more curtains and attach to existing ones
The vinyl's slick surface is easy to clean
Our track allows the outdoor breezeway curtains to move side-to-side
Does not bend and damage like rigid walls and panels
An inexpensive solution
Custom Made For Your Application
Custom-Built Breezeway Curtain Walls

You are in charge when deciding the breezeway curtain walls should look. Make them tall as needed, see-through, colorful, or extra durable for the toughest of storms. By filling in a quick quote form, you can also choose what specific features to ass. Here is what we offer:
You can choose what layout the curtains will use. From one-sided, to four-sided, to an entirely unique design
Choose specific widths and heights
The curtain walls can use one of many colors such as royal blue, beige, red, kelly green, gray, burgundy, orange, yellow, white, and more
Add a track which allows the curtain to roll from side to side or go with a standard, non-moving curtain instead
Other additional features include floor sweeps, clear vision panels, Velcro seals, chain weights, anchor straps
If there is something else you would like to add which isn't in the quote form, feel free to mention it in the special notes box, and we will contact you as soon as possible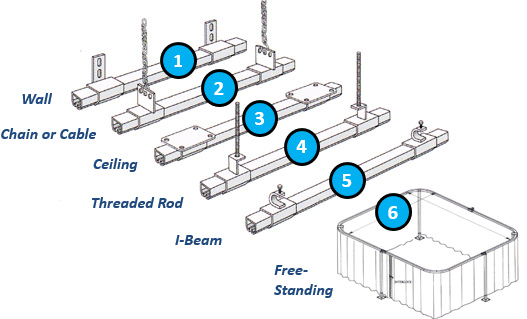 Rolling Hardware
16 gauge galvanized steel tracks
Nylon roller hooks for easy opening
6 mounting styles to connect to various structures
Free standing hardware for up to 20' in height
Static Hardware
Aluminum angle - Use with self tapping Tek screws
I-beam clamps - Clamps onto the flange of beams, joists and purlins
Click Below To Get Started