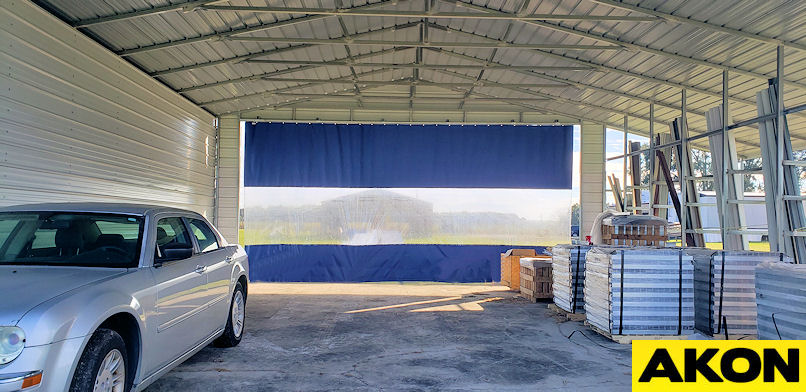 Easy Install
Garage door curtains come with grommets at the top making hanging the curtains quick and easy with or without the curtain track.
 Inexpensive
Garage door curtains are about 1/3rd of the cost of other separation methods such as rigid doors or panel systems and are easy to store.
Keep Out Bugs
Garage curtains are great for keeping the view while keeping out the bugs and the weather so that you can enjoy more of the outdoors.
Control Noise
Garage door curtains help reduce noise due to the thick PVC they are made from which makes for a more comfortable environment.
The first type of door curtains we offer use 16 gauge galvanized steel tracks. Such curtains will entirely cover the opening, but can be taken down in a few moments if needed. With the use of heavy-duty materials, our large curtain doors are perfect for industrial, commercial, and residential use. They are designed to be extra durable and withstand harsh weather conditions.
You do not need special equipment for the installation, and it will take no more than a few minutes to prepare the door curtains. It is possible to add a clear, vinyl see-through panel for extra visibility. This type of curtains are amazing for logistics transportation and storage. Another cool feature is the ability to choose a custom layout with more than one, straight side.
Perhaps you already have the needed curtain hardware or want to use your own fasteners? In such cases, you can purchase a curtain door without tracks or other accessories. You can customize your curtain depending on your application. We offer ten color options, two types of materials (18oz and 22oz industrial vinyl), and custom sizes.
You can add mounting grommets for hanging your curtain door. They can be located along the top, bottom, or side edges. A bottom pocket is another useful option to consider. It is located at the bottom of the curtain door, and you can pull a chain or pipe through it for extra weight. Note that we do not supply such chains and pipes.
The third option would be to use roll-up door curtains. With a single pull, the curtain will roll down to the bottom and cover the entrance. These curtains are designed specifically for energy efficiency in mind. Thanks to their temperature control, there will be minimal heat loss from your garage; and thus you will cut down on the monthly bills.
These manual, roll-up garage curtains raise and lower using a simple pull cord pulley. You can roll up the curtain door and store it out of the way if there's a lot of traffic. This type of curtains, similarly to the other two mentioned above have all the benefits of traditional doors. However, they are way cheaper; resistant against rot, mold, mildew; and custom only for you.
Garage Door Curtain Materials

There are four choices here: opaque, clear, insulated, and mesh.
Opaque includes 13oz, 18oz, and 22oz vinyl. This material is common in both industrial and residential use. It is durable, easy to clean, and
Clear includes 20 mil, 40 mil, and 40 mil USDA-grade. They are perfect for creating see-through panels for greater visibility. Such curtain doors will allow sunlight to pass through, but will remain strong against wind, rain, and harsh temperatures.
Insulated curtains are designed for applications where energy-efficiency is key. Some examples could include cold storage, kitchens, warehouses, and garages in areas with harsh climate.
Mesh lets air pass through which can be greatly beneficial in low-ventilation areas such as warehouses, garages, large storage units, and more. You can use the mesh to set up a strong barrier against insects and small pests. While air can enter or escape easily, the pests shall not pass. Such doors allow for easy movement between different areas and do not impede people carrying large equipment
Anchor Your Garage Door Curtains
Floor Anchors
With the use of optional floor anchors, you can keep the garage curtain door stable in one place. Spaced approximately 4' apart, the floor anchor straps will keep the curtains secured. We use Velcro straps which loop through the D-rings on the floor.
Note: in extremely strong winds, the floor anchors might untie, so it is advisable to prepare in advance by pushing the curtain slightly inward.

Garage Strip Curtains
Clear PVC strips allow you to walk from one garage space to another without pulling back the curtains. These garage strip door curtains are great for very frequent movement from one zone to another. The strips are crystal clear and are easy to replace should they get worn out or damaged. Please note strips are not ideal for vehicles to drive through as they could scratch your paint.
Insulated Garage Door Curtains
You may also choose to have an insulated garage door curtain. These curtains have insulated padding that will retain hot air or cold air. This will save on energy costs and still will allow full access from one side to the other.
These insulated curtain doors typically run all the way from the floor to the ceiling and Velcro attachment to the adjacent fixed walls. This complete seal ensures that the curtains keep in as much hot or cold air as possible. There are also several materials you can choose from based on your preference for color, material thickness, and functionality.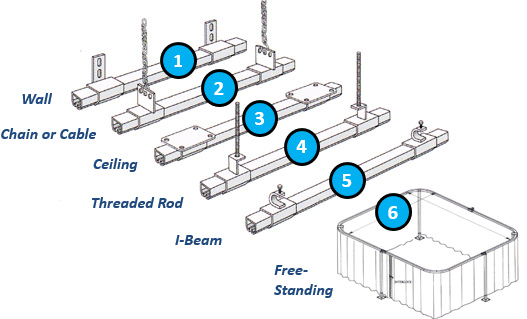 Rolling Hardware
16 gauge galvanized steel tracks
Nylon roller hooks for easy opening
6 mounting styles to connect to various structures
Free standing hardware for up to 20' in height

Static Mount Hardware
Aluminum Angle - Use with self tapping Tek screws to pinch curtain to angle.
Grommets Only - You can then use many DIY methods to hang the curtains.
Beam Clamps - Clamps onto the flange of beams, joists and purlins.