Overview
Whether you want to start a new business in your garage or simply update your personal space, a divider can do wonders. The potential benefits are numerous – keeping specific areas clean, preventing warm or cool air from escaping, organizing the space for more efficiency, customizing awesome looks, and more. The need to divide garage space is common, and there are different solutions to work with. Our blog will go through five unique garage partition ideas. Choose the best one for yourself or play around and work on different combinations.
Idea #1 - Glass Frame Garage Divider
The first option would be to go with a window frame garage divider. It will help you section your garage off into smaller zones (generally two large zones) and thus create unique environments. Window frames can do wonders as light passes through them. You will end up with a nice balance between structure and freedom. Once installed, you will have a substantial and original looking garage partition wall.
You would get glass dividers like this usually from the same companies that provide garage doors. For instance, this company ETO Doors supplies the image we are using as an example here. These partitions can usually be made to almost any size that you are looking for but please be prepared for a very large price tag. This type of custom garage divider is going to be utilized in very high-end homes. They have an ultramodern look to them and a price tag to back it up.
Very clean professional look
Excellent natural light source
Does not "visually" close in an area like a stud wall
Impressive appearance to all visitors
Very expensive
Once installed it's there forever
No flexibility for future use
Cannot be pulled out of the way when access is required
Building permits are likely required
Glass can break and will need to be cleaned
Choosing to divide your garage using a stud wall is an option for users who want a very permanent installation. A stud wall is exactly the same as a wall that you would find in your house. First you will install the studs, you will then cover the studs with drywall, patch the drywall and then finally paint the drywall. Also you are probably going to want to install some kind of a door to allow access to both sides. This could include a swinging door or just an opening with no door at all. It's important to keep in mind if you install a swinging door that you will need clearance. If the door is near your automobiles you could end up with some dents.
You're going to want to have some building skills if you are going to go this route. Putting up a stud wall is no easy task for someone who is not familiar with construction. If you are like most people who lack such knowledge you can also hand this project off to a local handyman but be sure to check their credentials before going that route.
The main advantage is also considered one of the main disadvantages and that is how permanent a stud wall is. You need to take into consideration future use of your garage. For instance, are you going to be getting larger or smaller automobiles or maybe some equipment such as ATVs need to go from one side to the other. It's extremely limiting once it is installed.
Very clean professional look
Will not budge if knocked into
You can hang pictures and decorations on it
Practically creates a second room in the garage
Once installed it's there forever
No flexibility for future use
Cannot be pulled out of the way when access is required
Must have experience with construction
Building permits are required
No natural light unless using windows
While we wouldn't fully recommend using tarps as walls (our blog about tarp curtain can explain why), they are still an option you can go for. Before considering a purchase, it is important to go through the different types of tarps. They are Canvas, Mesh, Poly, and Vinyl. Canvas tarps (also known as Tarpaulins) are extremely versatile and durable. These tarps can be flame retardant, water resistant, or mold & mildew resistant. Prices differ – while small and simple canvas tarps can cost as much as $10, the large and durable ones can reach hundreds of dollars. Canvas tarps are most useful when protecting your valuables. Using them as a garage partition wall is a good idea if you want to keep specific items safe. These tarps are heavy and require little taping and securing to stay in one place. They also improve personal safety.
Mesh tarps are a possible choice for a garage partition tarp if you want to create a shade, or improve your privacy. As the Canvas partition walls, Mesh tarps can be heavy duty, fire resistant, or mold & mildew resistant. Poly tarps could do the trick – they are tear resistant, waterproof, UV treated, and fire resistant. While some of these qualities are not of importance inside a garage, you could still use the tarps as garage partition walls if nothing else seems to work. They are still strong and durable. Vinyl tarps are the last of these four options. Their fire resistance is impressive; making them a good choice if you want to keep your garage safe. Should a fire ever break out, the Vinyl tarps will hold the flames and give you time to react.
They are very inexpensive
Ideal for short-term use (less than 2 months)
You can get them almost anywhere from hardware stores
Aesthetically there not appealing to look at
You have to pin them together for larger spans
They make your garage look very unprofessional
Loud crinkling noise when moved
Idea #4 - Accordion Folding Dividers
Accordion folding walls or doors could be of great help in efficiently dividing your garage space. Accordion dividers use a large number of vertical folds and rollers in a track mount at the ceiling. If you close them, they will resemble the shape of an accordion. There are great advantages over other garage partition ideas. The accordion dividers can easily fit in any space with any width. They are great at blocking out sound between the two areas. Easily rearrange your garage, improve indoor security, and save space. You can use both accordion folding walls and doors as dividers.
While using a flat, rigid wall would be a better solution for dividing your garage, the accordion folding walls still offer good performance while being ten times cheaper. What they lack in pure strength, they make up in ease of use and pricing. With as much as an overhead track, you can divide any space you want. Without floor tracks, there will be no risks in tripping hazards or dust collection. You could go with a mixed solution. If your garage already has a partial wall in the middle, or you want to set up a new rigid wall, you can leave some space empty and install an accordion door. It will still function as a space divider but will also allow quick and easy movement from one area to another.
There are only a few simpler and more effective garage partition ideas than using accordion folding doors or walls. There are nearly countless ways you can customize. Accordion walls will also greatly reduce distracting noises and provide privacy. Conserve energy and save on electricity bills by keeping the warm or cool air in.
Aesthetically extremely appealing
Rigid construction
Great for privacy
Easy operation when installed properly
One of the most expensive garage partition options
Installation can be tricky if you are not experienced
Replacing damaged panels is very expensive
Having level non sloping floors is a must
Idea #5 - Slick Curtain Dividers
The Best Garage Partition Ideas Include AKON's Garage Divider Curtains
Overview
If you are looking to divide the space in your garage, we have the best idea available. AKON's line of garage divider curtains which are quick to install and inexpensive. Constructed from heavy-duty vinyl, the garage curtains can divide the interior space or help you partition the work area. After finalizing a purchase, we will send you a clear vinyl, see-through panel. While all the ideas from before can work for your garage, our curtains are the best option.
Long-Lasting Protection
AKON's Garage Divider Curtains will help in efficiently managing your garage space. They keep the garage looking neat and clean while protecting your vehicles. The curtains are worth a fraction of the cost of a fixed wall. Do you need a garage partition for workshops? Then use the divider curtains to prevent the migration of water from washing, contain woodworking dust, and paint sprays within the work area. The economical garage curtains are great at creating smaller cells of different shapes and sizes to divide and manage parking space for various cars. The installation process takes little efforts and time. You can set up your new curtains without the requirement of special equipment. To customize your garage division curtain, there are plenty of optional features to choose from. Most of them won't cost you any extra charges.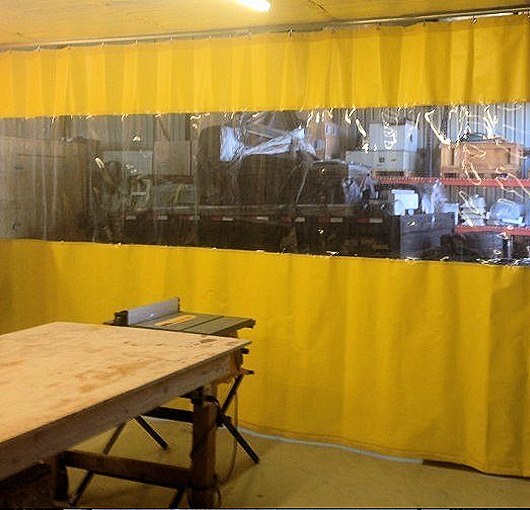 Benefits
Protect your own vehicle from potential damage
Block flying debris from entering your garage
Divide up the inside space for different tasks
Create your own area of privacy in the garage
Form walkways from doors
Save on heating and cooling with our special insulated version
Less expensive than rigid walls
You can reposition the garage partition curtain in other areas of your home
If you don't need it at the moment – quickly and easily take it down
Ability to purchase more curtains and attach to existing ones
Quick to roll out of the way when not in use
The garage partition curtain will guarantee your safety
Your garage will have a neat appearance
The vinyl's slick surface is easy to clean
Contain air migration, fumes, odors, dust, overspray, or other hazardous elements
You can build your own custom partition curtain – choose between different curtain layouts, dimensions, tracks, colors, accessories, and more
Lifetime warranty on all hardware and 5-year warranty on curtains
Insulated Garage Divider Curtains
You can also go with our insulated garage divider curtain. The insulated padding will retain hot or cold air. Summers will be cooler, and winters will be warmer. Save on energy costs while having full access from one side to the other. The insulated garage partition curtains typically run all the way from the floor to the ceiling, so the air won't escape. We use Velcro attachments to the adjacent fixed walls. The seal ensures your new curtains will keep in as much hot or cold air as possible. You can choose several materials depending on your preference for color, material thickness, and functionality.
Different Track Options
Depending on your garage layout, there are a few curtain track styles to choose from. Thanks to our rolling tracks, the garage partition curtain will roll from side-to-side with ease. If your budget is tight, we can supply a steel cable and hang your garage curtain from that. Fill in a quote, and we will help you decide on the best curtain possible.
Watch The Curtains in Action
Curtain Track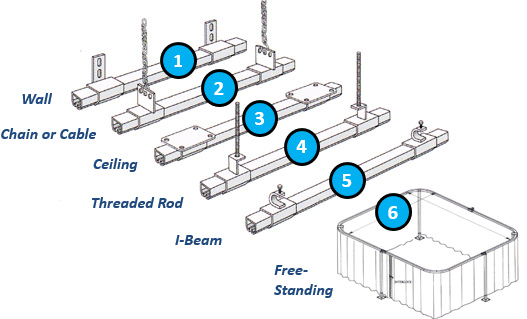 16 gauge galvanized steel tracks
Nylon roller hooks for easy opening
6 mounting styles to connect to various structures
Free standing hardware for up to 20' in height
Static Mount Hardware

Aluminum Angle - Use with self tapping Tek screws to pinch curtain to angle.
Grommets Only - You can then use many DIY methods to hang the curtains.
Beam Clamps - Clamps onto the flange of beams, joists and purlins.