OVERVIEW
Using an industrial curtain rail that is equipped with roller hooks can allow you to hang your new or used industrial curtains.
The curtain rails feature a galvanized steel construction and are designed for a quick installation. In fact, when you request a quotation, we will break your quote up into components which are modular in design and easy to connect.
Heavy Duty Industrial Curtain Rails
Maintaining smooth operation for many years is determined by the strength of the industrial curtain hardware. Utilizing heavy duty curtain rails ensures that your industrial curtain will roll with ease under the harshest of conditions.
The roller wheels are designed from nylon and include a 1" hook which goes through the grommets on your curtain. Once connected, the rollers can move forward or backwards with ease. There are also other curtain hangers which can be used if no grommets are available.
The track can be hung in several different fashions. From ceiling joists, from adjacent walls, from free standing curtain posts, or even from chains that hang down from above. Simply inform Akon about the type of mounting structure that you have and we will quote you on the appropriate type of mounting.
Designed For Speed and Flexibility
Why Use Rollers In The Curtain Track?
The rollers allow the curtain to move forward and backwards with ease. This movement will allow people and product to move through the area of the curtain without requiring extensive effort.
The curtain track rollers also allow the curtain to be taken down with ease should it become damaged. Since the hooks only slide through the grommets, you can quickly replace damaged industrial curtains.
Just so you know, the industrial curtain can hold airborne contaminants which are spontaneous in production facilities. They shielding production lines from cross contamination which improves the working condition of a facility.
Installation Considerations
Installation is fast and can be completed in as little as a few hours depending on the length and type of Industrial Curtain Rails you purchased.
Standard tools such as screwdrivers, hammers, ratchets, and a drill are often times all the tools that are needed for installation. To make the install go even faster, we provide a set of detailed installation instructions. This manual outlines the steps required to erect the industrial track.
If you would like to receive a quote or more information, simply click on the buttons below. We are here to help!
Description
Your sport net hardware kit includes all the components that you need to hang your sporting net. Once you place your order we will email you an order confirmation with all of the components itemized for you to review. Please note that the track is not cut to the exact sizes you input on the form. Track pieces will ship out in stock sizes and are made to be field cut with a hacksaw or power saw. Components included with your kit include:
Nylon roller wheels spaced every 12″
Track supports for spacing every 5′
Straight track sections that splice together
End stops to keep rollers inside of the track
Optional – 90 Degree radius corner
Optional – 90 Degree hard corner
Lifetime Warranty
How the Track Assembles
The track slips together and is bolted with set screws for a rigid construction.
The track can also be cut down to your exact size once it arrives.
Track supports are provided for every 5′ but you can space them out wider if needed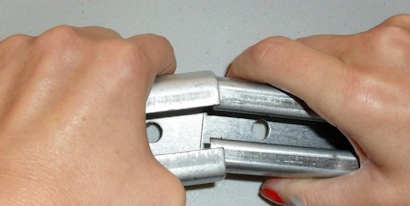 Material
16 gauge hot dipped galvanized steel
Nylon roller hooks have a 40 lb load rating
Steel track is rated for 100 lbs per linear foot
Choose From 6 Support Styles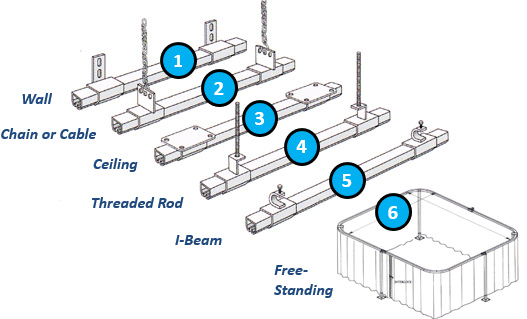 Dimensional Drawings
Lead Time
Ships in 3-5 work days
Ships UPS or FedEx. You can also specify your shipping account
Once you place your order we will email you an order confirmation with all of the components itemized for you to review.
Warranty
Lifetime warranty on manufacturing defects