Description
Ordering
---
Ships in 7-10 workdays

Free Shipping!

2-year warranty on manufacturing defects
Benefits
---
MADE TO YOUR EXACT DIMENSIONS: Unlike one-size-fits-all chicken coop tarps, you give us the exact dimensions of what you need. This makes for a more professional-looking installation. AKON clear custom chicken coop tarp curtains are used in thousands of outdoor applications around the USA.
HIGH QUALITY MATERIAL: All of our custom chicken coop covers are waterproof, rainproof, UV rated, and winter proof. The custom transparent tarps are made for outdoor applications where you want a crystal clear line of sight while keeping the weather out.

MOUNTING OPTIONS:

Each custom sized coop tarp is designed with optional grommets, snaps, twist locks, and pockets, which make for quick mounting. Based on your choice, they can be on the top only or all sides.

ZIPPER ENTRANCES:

We know that unhooking a tarp to get inside is a pain, so we offer chicken coop tarps with zipper splits for quick access. Walk in quickly, then zip it up behind you!
REINFORCED EDGES: The clear material has reinforced webbing edges for extra duty strength. These are highly recommended on all clear PVC outdoor tarps so that the fasteners do not pop out under wind stress. Note, only clear tarps need the webbing, opaque material is already internally reinforced, so we leave the webbing off.
SHIPS IN 7-10 WORKING DAYS: Quality takes a little longer, but the end result will make you happy for the few extra days of wait time. A perfect fit  custom-sized tarp is tight and clean and not bunched up like the one size fits all suppliers. The custom coop tarps are also made just for you and come with a 1-year defect warranty. Please note that tarps are non-refundable if simply not needed, as we custom make them.
Details
---
SPECIFICATIONS
✔ Thickness: 18oz / 20 Mil / 30 Mil
✔ Size: You Input The Size You Need!
✔ Variation of only +/- 1"
✔ Color: Crystal Clear
✔ Double Thick Edges: Yes
✔ Wind Webbing Edge: Yes on clear material
✔ Rated For: 0° F to 160° F | Clear
✔ Rated For: -20° F to 160° F | Opaque Colors
✔ Winter Rated: Yes
✔ Usage: Indoor and Outdoor
✔ Tear resistant & Abrasion resistant
✔ UV rated for sunlight
✔ One-Year Defect Warranty
✔ Ratings: Waterproof, snowproof, cold resistant, and meets fire codes.
Attention CA Residents: Prop 65 Warning
Mounting Options
---
Grommets:  Rust resistant, on corners + every 18" (If you need different spacing, just tell us on the notes portion of the order form) Most common and versatile mounting option.
Snaps | Screw On: Rust resistant, on corners + every 18" (If you need different spacing, tell us on the notes portion of the order form). Snaps have a matting screw that you screw into your structure. It is not ideal for tarps in high wind areas or larger than 10' due to the weight of the tarp.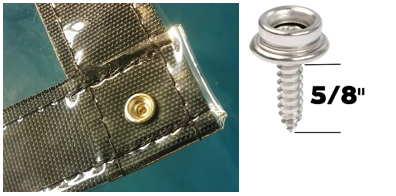 Snaps | Stick On: Adhesive snaps allow you to stick an adhesive base to your structure then the tarp snaps onto those bases. These are ideal when drilling into your structure is not possible or ideal. For instance, attaching to aluminum screen enclosures and vinyl siding. Using a 1.60" wide stick on an adhesive snap can work well for hanging your tarps. Video overview. It is not ideal for tarps in high wind areas or larger than 10' due to the weight of the tarp.
Twist Locks: Rust resistant, on corners + every 18" (If you need different spacing, just tell us on the notes portion of the order form). Twist locks, (also called Turn Buttons) are a great way to install and remove your tarp sidewalls quickly.
Pockets:  3" tall pockets are great for the bottom of the tarps. These pockets can also be used to hang the tarps when there is no structure to anchor to in the middle. Pockets do not add to the dimensions that you order. Pipe not included.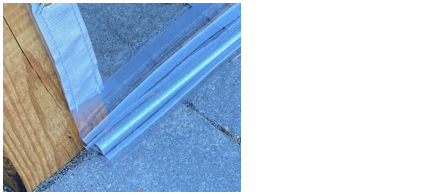 Shapes: Triangles and slope vinyl tarp walls are sometimes necessary to enclose your space. You can use this page to add shapes to your shopping cart order.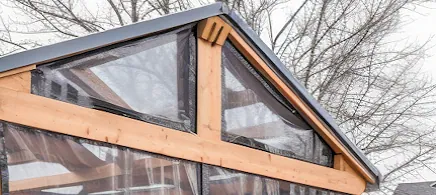 Considerations
---
SHRINKAGE
PVC will slightly expand and shrink due to cold and hot weather, along with folding. The curtains will be made to your exact size, but after shipping, folding, and weather changes, they may vary by 1", so leave yourself some slack when ordering. See the video guide tab for tips on measuring.
HEAT SEALING
Heat seals are placed either vertically or horizontally at the discretion of AKON for tarps larger than 54". If you prefer to specify the location of the heat seals, just let us know. We will do our best to accommodate. Here is a useful video explaining heat seals.
MATERIAL IDEAS
Sturdy and Heavy Duty Tarps are essential for preserving the ideal conditions for year-round poultry roosting. During warm seasons, hens do well in a "open-air" enclosure that provides ample ventilation and airflow to keep the coop from being overheated in the summer. But using chicken wire alone won't shield you from the harsh winter weather.
You may lower the amount of wind exposure and increase the interior warmth of your chicken coop or hen house during the winter by draping our custom sized chicken coop tarps over specific areas of it. For some tarps, think about utilizing 20 mil transparent tarp material to guarantee the hens get plenty of natural light. Remember that although this material is transparent, it might not be as durable as our solid vinyl choice. You can use the more robust solid vinyl material for spaces where the brightest lighting isn't necessary. For further versatility, you may even add windows made of clear vinyl to solid 18-ounce vinyl tarps, combining the two materials into one versatile tarp.
Even in the winter, keep in mind that hen coops require proper ventilation. Keep some sections of your coop uncovered to preserve enough ventilation and airflow rather than totally covering it with tarps. Strategically place ventilation places to keep drafts away from your chickens. To improve air circulation, you can also use windows manufactured from our mesh tarp material in place of clear vinyl windows.