Description
Ordering
---
Ships in 7-10 workdays

Free Shipping!
5-year warranty on manufacturing defects
Benefits
---
MADE TO YOUR EXACT DIMENSIONS: Unlike one size fits all deck skirting, you give us the exact dimensions of what you need. This makes for a more professional looking installation. AKON custom vinyl tarp skirts are used in thousands of outdoor applications around the USA.
HIGH QUALITY MATERIAL: All of our custom under deck skirting tarps are waterproof, rainproof, UV-rated, and winter proof. The custom deck skirts are made for harsh outdoor weather.

LESS EXPENSIVE:

Unlike most rigid panels, our deck skirting is less expensive and is a better alternative for a lot of customers.

MOUNTING OPTIONS:

Each custom sized deck tarp skirt is designed with optional grommets, snaps, twist locks, and pockets, which make for quick mounting. They can be on the top only or all sides based on your choice.

REMOVABLE:

If you need access, then you can fold up the skirting or simply unmount it for rapid under deck access.
SHIPS IN 7-10 WORKING DAYS: Quality takes a little longer, but the end result will make you happy for the few extra days of wait time. A perfect fit custom sized removable deck skirt tarp is tight and clean, not bunched up like the one size fits all suppliers. The clear custom tarps are also made just for you and come with a 5 year defect warranty. Please note that tarps are non-refundable if they are simply not needed, as we custom make them.
Details
---
SPECIFICATIONS
✔ Thickness: 18oz
✔ Size: You Input The Size You Need!
✔ Variation of only +/- 1"
✔ Removable: Yes
✔ Double Thick Edges: Yes
✔ Rated For: -20° F to 160° F
✔ Winter Rated: Yes
✔ Usage: Indoor and Outdoor
✔ Tear resistant & Abrasion resistant: Yes
✔ UV rated for sunlight: Yes
✔ 5  Year Defect Warranty
✔ Ratings: Waterproof, snowproof, cold resistant, and meets fire codes.
Attention CA Residents: Prop 65 Warning
Mounting Options
---
Grommets:  Rust resistant, on corners + every 18" (If you need different spacing, just tell us on the notes portion of the order form) Most common and versatile mounting option.
Snaps | Screw On: Rust resistant, on corners + every 18" (If you need different spacing, tell us on the notes portion of the order form). Snaps have a matting screw that you screw into your structure. It is not ideal for tarps in high wind areas or larger than 10' due to the weight of the tarp.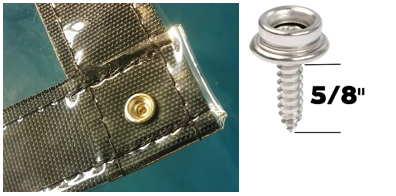 Snaps | Stick On: Adhesive snaps allow you to stick an adhesive base to your structure, and then the tarp snaps onto those bases. These are ideal when drilling into your structure is not possible or ideal. For instance, attaching to aluminum screen enclosures and vinyl siding. Using a 1.60" wide stick on an adhesive snap can work well for hanging your tarps. Video overview. It is not ideal for tarps in high wind areas or larger than 10' due to the weight of the tarp.
Twist Locks: Rust resistant, on corners + every 18" (If you need different spacing, just tell us on the notes portion of the order form). Twist locks, (also called Turn Buttons) are a great way to install and remove your tarp sidewalls quickly.
Pockets:  3" tall pockets are great for the bottom of the tarps. These pockets can also be used to hang the tarps when there is no structure to anchor to in the middle. Pockets do not add to the dimensions that you order. Pipe not included.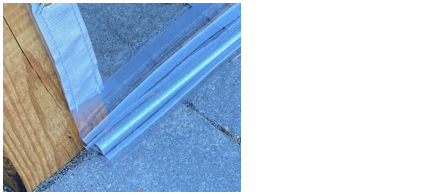 Shapes: Triangles and sloped vinyl tarp walls are sometimes necessary to enclose your space. You can use this page to add shapes to your shopping cart order.
Alternative to Panel Deck Skirting
---
There are several strong arguments in favor of choosing our deck skirting tarp over conventional rigid panel deck skirting. This is the reason our deck skirting tarp is unique. Our deck skirting tarps provide a blend of functionality, toughness, and visual appeal. Choosing them over inflexible panels allows you to take advantage of many advantages without sacrificing quality or style.
Cost-effective: For those on a budget, our deck skirting tarp is a blessing. It costs a small fraction of what stiff panels do while yet offering the style and functionality you want. You can save money and look stylish with our tarps.
Easily Removable: Our tarp system is made for simple removal, in contrast to hard panels, which can be difficult to take down and reinstall. When you need to quickly access the area underneath or when you're getting ready for seasonal changes, this capability is really helpful.
Flexibility combined with durability: Mishaps do occur. Unlike inflexible panels, our tarps provide flexibility against sudden impacts or stray balls from the youngsters. Our tarps absorb and rebound upon contact rather than breaking or cracking, guaranteeing durability and maintained looks.
Compact Storage: Unlike large, inflexible panels that require a specific area for storage, tarps are readily rolled up and stored once removed, saving a substantial amount of room.
Winter-Resilient: Our deck skirting tarps withstand the harsh winter weather, unlike other fabrics that crack and become brittle. They are designed to withstand the cold, so even in the most severe weather, your deck will look great.
Customizable Style: Uniqueness counts. You can select a shade of our tarps that precisely matches the exterior of your house thanks to our wide selection of color options. Every homeowner will be able to find a match that aligns with their aesthetic vision thanks to this versatility.