Description
Curtain Track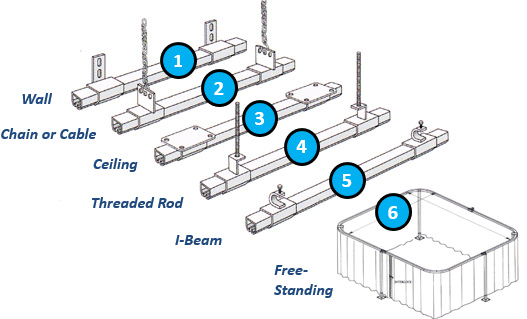 16 gauge galvanized steel tracks
Nylon roller hooks for easy opening
6 mounting styles to connect to various structures
Free standing hardware for up to 20' in height
Static Mount Hardware

Aluminum Angle - Use with self tapping Tek screws to pinch curtain to angle.
Grommets Only - You can then use many DIY methods to hang the curtains.
Beam Clamps - Clamps onto the flange of beams, joists and purlins.
Opaque Material

- 18oz
Vinyl coated polyester reinforced with scrim
NFPA fire retardant, CFM fire retardant
Finished edges for clean crisp appearance
Double or triple hems used where needed for longevity
All colors are the same price
18 oz = .020″ thick, 2.0 oz. per square foot
Mesh Material

- 12oz
NFPA fire retardant, CFM fire retardant
Allows airflow through for temperature leveling
Allows some light through for light leveling
Finished edges for clean crisp appearance
Double or triple hems used where needed for longevity
---
Opaque Colors
WARNING: Please note that colors in video are a representation only.
On site colors will differ slightly due to lighting and your digital
device image settings. For exact color needs please ask for a sample.
Key Benefits
Less expensive than rigid walls
Can be taken down quickly when not needed
Can be re-purposed in other areas
Ability to purchase more curtains and attach to existing curtains
Divide work areas quickly
Curtains improve worker safety
Quick to roll out of way when not in use
Easy to clean with slick surface of Vinyl
Lifetime warranty on all hardware and 5 year warranty on curtains
Common Layouts
AKON can supply just about any layout you can think of. Below are some common styles. They can be single sided, double-sided, triple sided, four-sided or multiple straights to create complete enclosures. You simply inform AKON about your desired design and we will have it fabricated exactly as you need it. For customized layouts, sketch your design and upload it using our online RFQ form. See button below.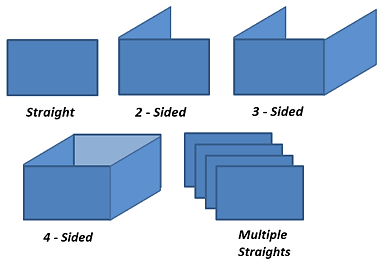 Width

Measure the distance that you are trying to cover and then add 5% to that dimension and enter it into the width box.
TIP - The reason you want to add 5% is for proper drape of the curtain so it properly covers the span.
Height
Measure the distance from the floor to the mounting point of the track and subtract 3 inches and input it into the height box.
TIP - We subtract those 3" to account for the hardware to keep your curtain just off of the floor.
TIP - If you are not using any hardware then you don't need to subtract the 3"
Need More Help? Watch This
---
Common Questions
---
What is the spacing from the bottom of the track to the top of the curtain?
Standard curtains have approximately 3.75 to 1″ of a gap from the bottom of the track to the top of the curtain.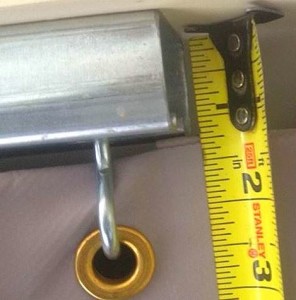 What are the dimensions of the track?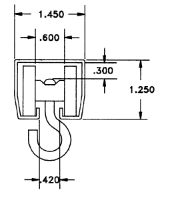 Can the track be cut to size on site?

Yes, the track is made to be field cut on site using a hack saw or Sawzall.
How much width does the radius corner add to the length?

The radius corner is 24" diameter. The radius corner will add 2 feet to each dimension.
For example, if you have 120" of curtain track then a radius corner will be make the overall length of side "A" 120"+24"=144"
How does the track go together?

The track is modular in design and will arrive in pieces that have a simple bolt together design.
How close together do I need the track supports?

The track should be supported approximately every 5' with a track support. The farther apart the track supports, the greater the deflection. If you have a relatively short in height curtain then you could space the supports out a little farther. You will receive enough track supports with your order to achieve this 5' spacing.
Can I simply drill straight through the track and into the ceiling / structure?

Yes. This is called a flush mount install and is very common. Simply drill through the middle of the track and use a small wood screw, bolt, Tek screw...ect into your structure. Space the holes about every 3-5'. Choose the ceiling mount style on this form and in the notes ask for straight splices instead of the ceiling mounts.
How hard is it to install the industrial curtain track?

It is very easy. All of the components simply fit into each other and connect with set screws. The installation is very intuitive. If you have any difficulty simply call or email us and we will walk you through the process.