Overview
If you want to set up a personal gym at home, but need some ideas on where to start, the most simple solution is the garage. Given your garage has some free space, you could separate it from the car, and create your own workout area using Akon garage gym dividers
AKON's garage dividers will allow you to create the perfect home gymnasium. You can also choose among many different divider styles, and customize them as much as you want - sizes, colors, accessories, everything you need!
Different Garage Gym Divider Types
Custom-Made Gym Divider Curtains
Garage Gyms Are True Art
Sure, not everyone needs or haves a private gym at home, but if you want to set up one, the benefits will outweigh the cost. If your garage has some free, unused space and the closest fitness is miles away, creating a small garage gym could do wonders. The home gym will be a perfect place to rest and relive stress after a busy day.
If the weather is harsh, or there is a lockdown outside due to virus outbreaks, your personal garage gym will provide you with all the exercise you need. Even insulated garage gym curtains can be used to control temperature.
Our Dividers Are Made To Last
If you've already decided on setting up a garage gym, the easiest way to do that would be with AKON's line of garage divider curtains. Constructed from heavy-duty vinyl, they will divide the interior space of your garage and make sure your gym equipment or vehicle remain apart.
There is no better way to efficiently manage your garage space. The curtain dividers take almost no space, and can be adjusted in mere minutes. They will keep your garage looking good, protect your vehicles, and keep everything clean.
What Makes Our Garage Gym Dividers Special?
Customization Options

Depending on which garage gym divider style you chose, there are many things to customize. Here are some examples:
Choose specific widths and heights
Colors such as white, red, royal blue, tan, beige, gray, black, forest green, orange, yellow, brown, burgundy, and more
Different track styles each with specific mount options
Combine your dividers in different layouts
Clear vision panels
Floor sweeps
Velcro seals
Chain weights
Anchor straps
Entry doors and more
Easy Install
Workout curtains come with grommets at the top making hanging the curtains quick and easy with or without the curtain track.
 Inexpensive
Home gym curtains are about 1/3rd of the cost of other separation methods such as rigid walls or panel systems and are easy to store.
Separate People
Home gym curtain walls are ideal for separating family, friends, and guests from your workout area and equipment.
Control Noise
Home gym curtains help reduce noise due to the thick PVC which helps keep the music and clanking weights to a minimum.
Heavy-Duty Curtain Tracks
Of course, if you have a nice curtain or cover prepared, and only need a track, we can provide you one which fits perfectly.
We offer different styles depending on what your garage layout is. With the right track, your divider will roll side-to-side. If you are on a tight budget, a steel cable will do the trick! We can hang the divider on it.
Our curtain tracks are made for heavy-duty use. Their modular design comes in 2,3,4,5,6, 8 and 10' lengths. Installation is really quick and easy and there will be almost no future maintenance. Both our dividers and tracks are easy to clean, and will remain in good shape for years to come.
Garage Gym Divider Benefits
Easily partition your garage; one part for the gym and another for the car and related tools
Protect your vehicle from damage in case an accident happens
Ensure you always have privacy in the garage
Save money on heating and cooling with our insulated panels
Much cheaper than permanent, rigid walls
You can move and re purpose the divider elsewhere in your home should the need arise
Quickly take it down if you want to temporary free up space
You can always purchase more garage gym dividers and attach them to the existing ones if you want to make a bigger wall
Your garage will have a new and neat appearance
Block off air migration, fumes, odors, dust, overspray, or other hazardous elements from ever entering the gymnasium
Lifetime warranty on all hardware and 5-year warranty on all curtain dividers
Invite Friends And Have Fun
Your new garage gym could be used year-round with little maintenance. Not only will you utilize on unused space, but get to enjoy your gym by inviting friends. Having a home gym, even if a small one, is a true delight.
Fixed walls are harder to build, cost more, and are not east to take down. Our curtains, on the other hand, can be moved and re-positioned with ease. You could also add doors clear vision panels in them too!
Watch The Curtains in Action
Curtain Track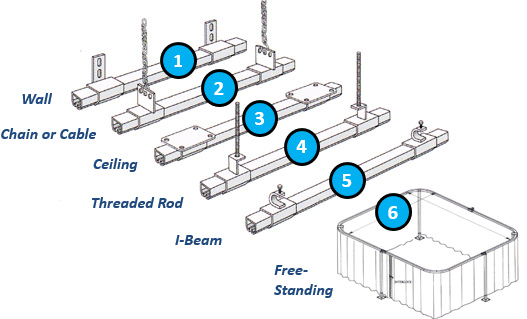 16 gauge galvanized steel tracks
Nylon roller hooks for easy opening
6 mounting styles to connect to various structures
Free standing hardware for up to 20' in height
Static Mount Hardware

Aluminum Angle - Use with self tapping Tek screws to pinch curtain to angle.
Grommets Only - You can then use many DIY methods to hang the curtains.
Beam Clamps - Clamps onto the flange of beams, joists and purlins.