OVERVIEW
You can control and contain sandblast material with the use of the Akon line of sandblast curtains. These curtains form walls around the area where the blasting is taking place. This in turn will greatly reduce the loss of blasting media and keep the surrounding areas clean and debris free. Designed from a material which is identical to airbags and at a fraction of the cost of similar rubber sandblasting curtains.
Blasting Curtains For Speed
Depending on your needs we have several different materials which we can offer. For sandblast curtains which will not see a direct blast, we can offer an 18 ounce vinyl in a multitude of colors.  This material is reinforced with polyester, making it a durable and economical solution.  For applications where it is possible for a direct blast to take place, the thicker airbag material can be used which provides heavy-duty sandblasting protection.
Mounting the sandblast curtains
There are several options for mounting the sandblasting Curtains. One option is to simply have the curtains outfitted with brass grommets at the top, bottom, and sides.  You can then simply zip tie the curtain to any structure that you have available.
Another option is to purchase and install the Akon industrial curtain trackwhich will allow the sandblast curtain to slide left and right when not needed. While the curtain track is a little more expensive than a field zip tie mount, it does add extra flexibility for your sandblasting curtain application.
Containment For Less Expense
Finally, you can have the shot blasting curtains as a freestanding containment with the use of our 2" x 2" tube construction frames and floor plates. Simply tell us the length x width and the number of sides and we will provide you with a quotation.
Complete enclosures
If you need to completely enclose the area where sandblasting is taking place, then you can check out our line of industrial containment curtains.  These are freestanding structures that feature four walls and a roof to completely enclose dust creating processes.  You can click here for more information.
We hope you enjoyed this week's article on our line of sandblast curtains. If you'd like more information, simply click on one of the buttons below.
Strip Curtains For Blasting
Clear PVC Walk Through Strips
Heavy walk through strip curtains are also a great option for blasting booths to keep the dust contained. These clear strip curtains allow rapid access into and out of the blasting enclosures.
Curtain Track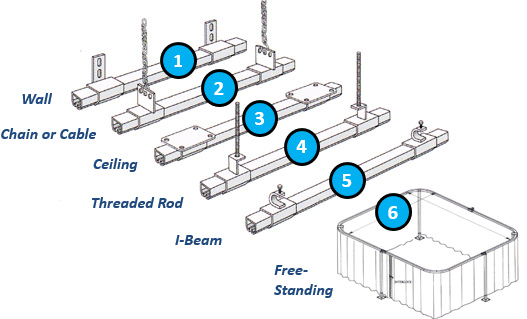 16 gauge galvanized steel tracks
Nylon roller hooks for easy opening
6 mounting styles to connect to various structures
Free standing hardware for up to 20' in height
Static Mount Hardware

Aluminum Angle - Use with self tapping Tek screws to pinch curtain to angle.
Grommets Only - You can then use many DIY methods to hang the curtains.
Beam Clamps - Clamps onto the flange of beams, joists and purlins.