OVERVIEW
With the high standards against contamination, many schools are forced to search for alternatives to keep their students safe. If you as a school teacher are looking to prepare the school classes for the fall, there are a number of options to explore.
You can choose between divider screens, hanging screens, strip curtains, large curtain walls, isolation curtain rolls, separation walls, or a combination. Social distancing dividers for in-between students desks will help maintain a safe environment for the staff, students, and by-passers. With such preparation, you will greatly reduce the risk of virus spread while complying with state requirements for dealing with school openings.
Portable Clear Divider Screens
OVERVIEW
In stock and ready to ship portable clear divider screens for germ safety. The screens are commonly used for dividing students and teachers during pandemic outbreaks. The screens can form a single separation wall, a two-sided enclosure, three side enclosure, or four sided enclosure along with multiple other configurations. When it is critical to keep the students at safe distances, the germ separation screens are very quick solution. These screens are a must-have tool for any school or college which wants to protect its staff and students from disease spread. As an added bonus, the clear PVC shades are easy to clean with disinfectants and they will not harm shades.
OVERVIEW
In stock and ready to ship cough and sneeze clear hanging divider curtains. These curtains separate students for safe social distances when they are staying at the school nursing room. The clear material is easy to see through and is quick to hang from high places including drop ceilings or tall warehouse purlins. These can be also be used at dental offices, counters, pharmacies, hospitals, clinics, reception desks, cafeterias, and other venues.
Made to your exact size
Solid pipe with crystal clear 40mil PVC
Simply hang using small steel cables
PVC shades are easy to clean with disinfectants
Crystal clear PVC
Clear Social Distancing Dividers
OVERVIEW
In stock and ready to sneeze divider curtains. Freestanding clear vinyl curtains are a very versatile and portable option for both permanent and temporary school distancing guidelines. Our kit includes everything you need to make many different shapes or one long continuous inline sneeze guard curtain wall. Choose from many different colors from our two most popular fabrics to achieve the perfect appearance for your project. The portable physical barrier is a temporary solution that can be quickly implemented. The sneeze and cough barriers are easy to install using simple standard pipe with snap together installation. At 8' tall they provide excellent separation of students, faculty, and visitors.
OVERVIEW
In stock and ready to ship hanging divider strip curtains. If you need complete access into and out of an area quickly but still need to protect your students and staff, then the hanging divider strip curtains are ideal. These are clear strips that hang straight down allowing people to walk through them while separating everyone at safe distances. These clear curtains shod from sneezes and coughs and are a hygienic barrier and may facilitate interactions when needed.
Clear Isolation Curtain Rolls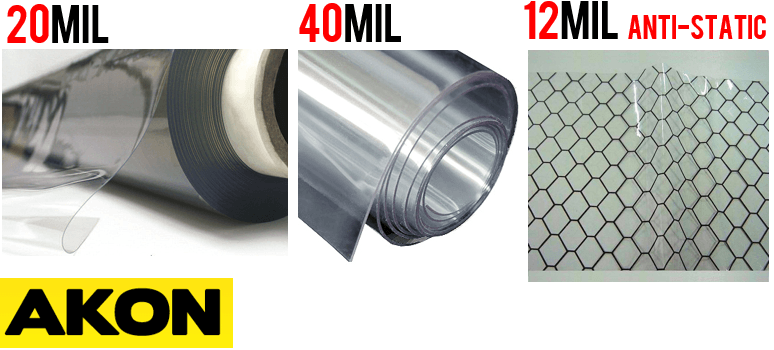 OVERVIEW
In stock and ready to ship bulk clear isolation curtains. These are a great option if you are in a hurry and need a clear separation curtain quickly. The clear bulk rolls are stocked and ready to ship. You can hang these using lots of different methods and form all kinds of shapes and enclosures for isolating the kids or other employees from each other. Unlike the other clear hanging dividing screens, these are off the shelf solutions and can ship same day or following day.
OVERVIEW
10-15 work days to ship the infection divider curtain walls. Controlling the spread of germs and infection inside medical facilities can be accomplished with small to large curtain walls. These custom-made separation and isolation curtains help contain germs which can become airborne and infect other people and workers. The curtains can go from the floor all the way to the roof deck for complete isolation. If you are only looking to separate workers for appropriate personal spacing and or sneeze and coughing barriers then 10 foot tall curtains can be used.
Control Germs And Virus Spread With Our Dividers
Easy-To-Install
The curtain walls come with grommets at the top making hanging quick and easy with minimal tools.
Environmental
Protecting the environment is critical when contamination takes place and the curtains are very quick to deploy either side to side or by roll down.
Protects Bystanders
Germ control curtain walls are ideal for increasing protection of bystanders by separating people.
Physical Barrier
The curtains form a physical barrier in almost any design you need as it relates to your application and people separating needs.