OVERVIEW
Coiled wire fabrics are used to create steel mesh safety curtains for a variety of new and retrofit industrial safety and security applications. These projectile curtains keep your personnel safe and debris contained in the event of a component ejection. The mesh steel curtains complies with ANSI B11.19-2003, which is a requirement of the Occupational Safety and Health Administration (OSHA) to avoid injuries from projectiles.
Custom Ejection Barrier Curtains
Custom Made Per Application
Rapid Access In Any Size
AKON offers the North American market a wide selection of industrial safety steel mesh curtains and security steel mesh curtains. AKON is your go-to partner for coiled wire fabric systems thanks to our knowledge. We can help you create your steel mesh curtain and provide individualized technical installation assistance to our customers.
For a variety of industrial and manufacturing applications, AKON provides both off-the-shelf and specially developed specialized systems, such as steel mesh machine safety guards, steel mesh blast curtains, and steel mesh security enclosures.
Our coiled wire fabric safety curtain barriers can be installed in either stationary or mobile positions thanks to AKON's carefully selected attachments. They can handle steel safety curtain panels of various shapes, densities, and open spaces while still delivering the required performance.
To assure the best safety and security features, all AKON coiled wire fabric curtains go through meticulous design, engineering, and testing processes. This successfully protects your facilities and staff.
Easy To Install and Use
Numerous advantages are provided by steel mesh safety curtains in commercial and manufacturing settings. First and foremost, they effectively safeguard against dangerous substances, sparks, and debris, assuring the security of personnel and machinery. Additionally, because the mesh is relatively transparent, supervisors may observe operations while yet maintaining a secure barrier thanks to the excellent vision it provides. Steel mesh curtains also offer long-term dependability and cost effectiveness because they are strong and wear-resistant. Additionally, they are adaptable and simple to install, enabling customization and adaptation to various settings and uses. Overall, steel mesh safety curtains in industrial environments improve security, visibility, toughness, and adaptability.
Portable Steel Mesh Curtains
Mobile Ejection Curtains
Ejection curtains that are freestanding go where you need them and when you need them. These portable screens can use locking casters to keep them in place once positioned. To offer permanent or temporary ejection safeguards at machines or along walkways, the frame can be changed with ease. Move the portable ejection curtain to areas where it is needed, then when not needed simply roll it away for storage. Steel mesh safety curtains that are freestanding go where you need them and when you need them. You kit includes the steel mesh curtain, hanging hooks, mobile frame and locking casters.
Press Ejection Curtains
The hydraulic press safety barriers will prevent injuries caused by flying, rolling, or sliding debris. These curtain guards are widely used in the manufacturing and fabrication industries to protect during machine use. The guards can easily be opened to load and inspect a part then closed and secured during press operation. Our 1/4″ weave 19-gauge hot-dipped galvanized steel or aluminized steel coiled wire fabric allows visibility of the machine process without sacrificing the operator's safety. Available in numerous sizes, our kits fit most hydraulic presses and equipment plus we can design and manufacture custom machine guards for special applications. The full kit includes: an adjustable steel pipe assembly kit, the industrial safety hooks, and the steel coil curtain with a clear safety black finish.
Steel Mesh Curtain Benefits
Better Airflow
Steel mesh curtains provide for greater ventilation and airflow, ensuring that the air in the workspace is properly circulated. By limiting the buildup of heat or odors, this aids in maintaining a cozy and beneficial working environment.
 Quick Operation
Steel mesh curtains can be made with a variety of opening methods, including sliding or rolling systems, making them simple to use and flexible. This maintains the required safety and security while enabling simple access to particular regions.
Many Applications
Steel mesh safety curtains can be used for a variety of purposes other than safety barriers. They can be used to divide up areas while retaining visibility and safety in industrial settings by acting as partitions, dividers, or enclosures.
Meet Regulations
Steel mesh curtains are created and constructed in accordance with industry standards and safety guidelines. Businesses may assure compliance and mitigate any safety concerns by utilizing these curtains.
Material
1/4″ weave 19-gauge hot-dipped galvanized steel or aluminized steel coiled wire fabric
Allows visibility through the mesh while protecting people on the other side from projectiles (*)
Compliant with the Occupational Safety and Health Administration's (OSHA) requirements to prevent injuries from projectiles, specifically ANSI B11.19-2003.
Curtain Track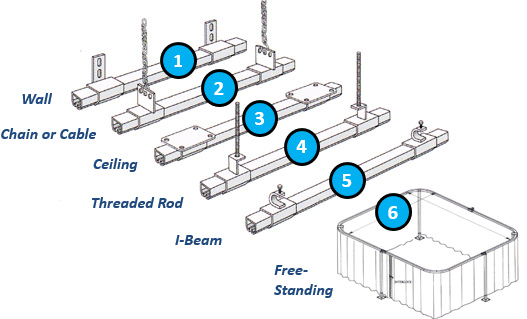 16 gauge galvanized steel tracks
Nylon roller hooks for easy opening
6 mounting styles to connect to various structures
Free standing hardware for up to 10' in height
Static Mount Hardware
Aluminum Angle - Use with self tapping Tek screws to pinch mesh curtain to angle.
Beam Clamps - Clamps onto the flange of beams, joists and purlins.
(*) Unlike other national and regional standards systems, the United States does not have an approved entity that can certify fully integrated and installed guard systems for safety compliance. The responsibility of ensuring compliance falls to the employer, installer and/or OEM. We are confident in our product, but as all applications are different it is imperative that you test our products for your particular installation. It is recommended that this application-specific analysis include testing to determine suitability from a technical as well as health, safety, and environmental standpoint. All information and technical assistance is given without warranty or guarantee, and is subject to change without notice.