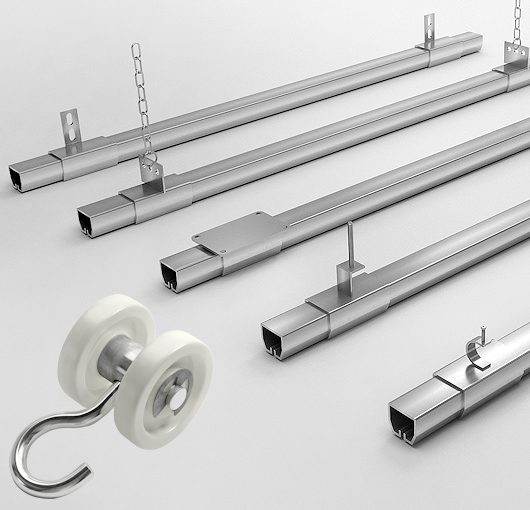 OVERVIEW
Akon can provide you with industrial curtain tracking that will allow you to hang your new or used industrial curtains. Constructed from high grade galvanized steel, the industrial curtain tracks will endure the elements for many years.
Heavy Duty Steel Curtain Track
Industrial Curtain Tracking Mounts
There are several styles of industrial tracks to choose from based on your available mounting structure.
Ceiling Track Mounting – The curtain track connects directly to the ceiling above the track
Chain Mounting – A chain or cable hangs down from above which is ideal for tall ceilings
Threaded Rod Mounting – A steel threaded rod hangs down from above which is also ideal for tall ceilings
Wall-to-Wall Mounting – This mounting style allows the curtain tracking to be attached to any vertical surface
Key Considerations
There are several things that you should consider to make your installation of your curtain track hardware smooth and efficient.
Make sure that you accurately measure the length of the curtain.
Inform us of the curtain height so that we can provide the correct amount of beam supports based on the weight of the material.
Determine if you want the curtain tracking to feature roller wheels which will allow you forward and backward movement.
Ensure that you have structure that can support the weight of the material and the curtain hardware.
If your installation is outside, then please inform us as we might need to make special modifications. Outside installations have to be built to handle windy scenarios.
Several Configurations
The configuration of the track is very flexible based on your needs. For instance, if you need to have a curtain make a 90 degree turn you can use a curved section of track. This allows the curtain to be one complete section instead of two separate curtains.
Description
Your sport net hardware kit includes all the components that you need to hang your sporting net. Once you place your order we will email you an order confirmation with all of the components itemized for you to review. Please note that the track is not cut to the exact sizes you input on the form. Track pieces will ship out in stock sizes and are made to be field cut with a hacksaw or power saw. Components included with your kit include:
Nylon roller wheels spaced every 12″
Track supports for spacing every 5′
Straight track sections that splice together
End stops to keep rollers inside of the track
Optional – 90 Degree radius corner
Optional – 90 Degree hard corner
Lifetime Warranty
How the Track Assembles
The track slips together and is bolted with set screws for a rigid construction.
The track can also be cut down to your exact size once it arrives.
Track supports are provided for every 5′ but you can space them out wider if needed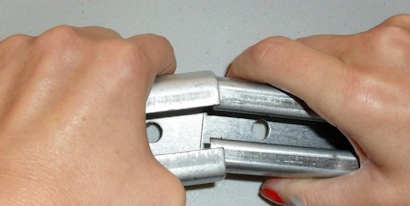 Material
16 gauge hot dipped galvanized steel
Nylon roller hooks have a 40 lb load rating
Steel track is rated for 100 lbs per linear foot
Choose From 6 Support Styles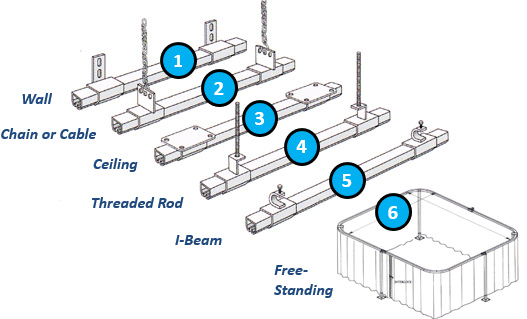 Dimensional Drawings
Lead Time
Ships in 3-5 work days
Ships UPS or FedEx. You can also specify your shipping account
Once you place your order we will email you an order confirmation with all of the components itemized for you to review.
Warranty
Lifetime warranty on manufacturing defects