OVERVIEW
Laser barrier curtains are the ideal solution for protection of sensitive areas. The thick materials are configured for almost any layout that you require for your application. The laser curtains can also roll side to side on our industrial curtain track system or be static mounted. These light weight laser curtains are easy to move and can be collapsed into a small space when they are pulled back. Uses include portable laser barriers, blackout laser curtains and laser curtain material. Now available is class 4 laser curtains.
Rated at 425 W/cm2 for 100 seconds for Class 3B and 4 lasers Size: 58"x96" (*Tested at 1064nm with 1mm beam diameter) $
Rated at 575 W/cm2 for 100 seconds for Class 3B and 4 lasers size: 58"x96" (Tested at 1064nm with 1mm beam diameter) $$
Rated at 2150 W/cm2 for 100 seconds for Class 3B and 4 lasers size: 58"x96" (Tested at 1064nm with 1mm beam diameter.) $$$
This protective layer adds cleanroom, antistatic, & antibacterial properties; all in one. It is sewn onto the front and back of the laser safe curtain.
This protective layer adds antistatic properties and is sewn onto the front and back of the laser curtain. By the ASTM D-257 testing methods, the Electrostatic Discharge (ESD) Standard Protective Layer has a surface resistance of 106-107 Ω/sq.m.
Custom Made For Your Application
Common Applications
Laboratories
Security rooms
Hospitals and medical centers
Surgical
Clinics and health care
Dermatology
Dental
Research & Development
Veterinary
Electronics Manufacturing Facility
Military Testing
Benefits
100% laser blackout curtains
NFPA-701 approved for flame resistance
Made in the USA
Constructed using top of the line material
Customization to meet your exact needs
Laser curtain material made to order
Curtain Track For Movement
Hanging Track
Industrial Curtain Track with roller hooks allows you to roll the laser safety curtains side to side which allows maximum access to both sides of your work area. The heavy duty curtain track is modular in design and easily bolts together.
Free Standing Track
When hanging your laser curtain track from above is not possible then you can support it from the floor up so you can have full access above. Free standing laser curtains are supported from the floor up with base plates. The freestanding uprights are spaced every 8 to 10 feet allowing for complete access when the curtain is pulled back.
Easy Glide Rollers
The roller hooks allow the curtain to easily roll from side-to-side with minimal friction. These laser barrier curtain hooks are spaced equally at the top of the curtain into fit into the grommets. When not needed the curtain can quickly be removed from the hooks unlike clamp on rollers.
Easy Installation
Each track comes with end stops that contain the rollers inside of the curtain track. The track should be supported approximately every 5' with a track support. The farther apart the track supports, the greater the deflection. If you have a relatively light weight curtain then you could space the supports out to about 8' apart.
Other Features
Window laser safety covers attach to the wall or door around the window using grommets, magnets or hook and loop tape. An economical option that is easy to apply, remove or store when needed. We offer up to a laser safety rating of 2,150 W/cm2 for 100 seconds for window covers.
Grommets – Inserted into your custom cover, allowing the cover to hang on hooks or trolleys
Hook & Loop Tape – Applied along the edges of the window; sticks to the wall or door, providing full coverage
Magnets – Applied to the edges of the cover and the wall or door, securing the curtain in place
Cleanroom Layer – Outer layer with antibacterial and antistatic properties for easy cleaning.
Optional Valance
A valance is used in some applications where there is a large gap from where the hardware is mounted to the top of the laser safety curtain. Ideally you want this opening to hang 6 to 12" below the curtain track.
Need Portable Laser Curtains?
Mobile Laser Blocking | Rigid Panel
Laser curtains are a crucial component for hand-held welding and high output laser devices due to their unparalleled safety benefits. Our rigid panels prevent accidental exposure to hazardous radiation, reducing the risk of injury or damage. If you are looking for a laser barrier protection up to 10,000 W/cm2 irradiance tested for 100 secs at a 1mm beam diameter, then our Rigid Panel is the best option for you. We have multiple sizes to choose from and can form any layout you need.
Mobile Laser Blocking | Soft Panel
In stock and ready to ship Portable Laser Curtains. If you are looking for a laser barrier protection up to 575 W/cm2 Tested at 1064nm with 1mm beam diameter, then a portable laser barrier shield is the best option for you. The divider screens can form a single separation partition, a two-sided enclosure, three-sided enclosure, or four-sided enclosure along with multiple other configurations. We can custom build this portable barrier wall with strong, heavy duty steel hardware, locking casters, and laser rated material. An excellent protection option in a small laser environment.
Retractable Laser Blocking | Rigid Panel
NEW! Retractable laser barrier curtains that roll up when not needed. Unlike other styles of laser barrier curtains the retractable roll up laser blocking curtains have a very small footprint. Hand pulled with spring tension roller. This roll up laser blocking curtain has a shade that that extends up to 25'. The SB-9000 Laser Curtain provides a space saving alternative to barriers which rest on the floor.
Curtain Track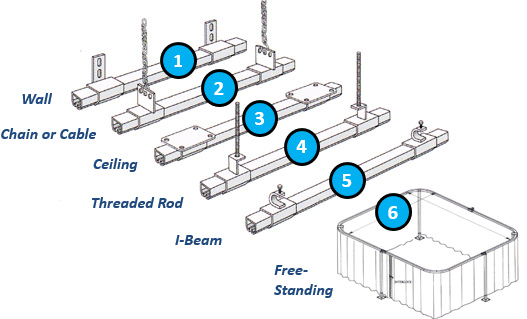 16 gauge galvanized steel tracks
Nylon roller hooks for easy opening
6 mounting styles to connect to various structures
Free standing hardware for up to 20' in height

Static Mount Hardware
Aluminum Angle - Use with self tapping Tek screws to pinch curtain to angle.
Grommets Only - You can then use many DIY methods to hang the curtains.
Beam Clamps - Clamps onto the flange of beams, joists and purlins.
Drop Ceiling Mount
Chain or Cable Track Hardware is ideal for drop ceilings
Cables are dropped down from structure above at any height
Track support tab sticks above the ceiling tiles for clean install
Heavier duty than the aluminum and light I-Beam tracks on the market